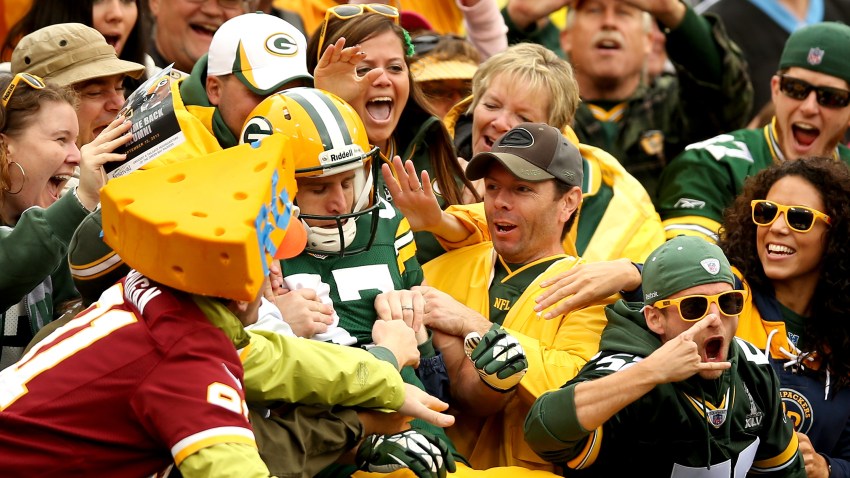 This tweet from Bruce Arthur is a better lead than I could have ever written about this game.
The Redskins should change their name just so nobody knows their first two games were them. — Bruce Arthur (@bruce_arthur) September 15, 2013
Yup.
The Redskins' offense continued to struggle, while Aaron Rodgers surgically dissected the Redskins' defense to the tune of a career-high 480 yards and four touchdowns as the Packers coasted to a 38-20 victory Sunday.
The start of Sunday's game was promising. Washington's defense set the tone early with three sacks (including two consecutive by Ryan Kerrigan) in the first quarter, but despite their best efforts, the Packers jumped out to a 10-0 lead. Randall Cobb, who had a touchdown negated earlier in the quarter when he stepped out of bounds, hauled in a 35-yard touchdown pass on 4th-and-3 with just over 2:30 left.
PHOTOS: Packers Wallop Redskins, 38-20.
The same cannot be said about the Redskins' defense in the second quarter, where things fell apart faster than a Chinua Achebe novel. Rodgers threw touchdown passes to Jordy Nelson and Jermichael Finley to push the Packers' lead to 24-0. Robert Griffin III & Co. attempted to respond on the ensuing drive, but his pass intended for Joshua Morgan was intercepted by Mike Neal. On the bright side, it could have been much worse; as James Jones stretched for a touchdown that would have made it at least 30-0 in the final seconds of the half, he lost control of the ball, which hit the pylon and therefore resulted in a touchback.
Even then, Rodgers finished with 335 passing yards in the first half, a career-high for one half of football.
Further insult was added in the second half when Nelson made another touchdown grab and James Stark ran in another score from 32 yards out to extend the lead to 38-7. I'll save you the rest.
(Oh, Pierre Garcon, Jordan Reed and Santana Moss scored touchdowns somewhere in there, but none of them really mattered.)
Last season, the Redskins overcame a 3-6 start to win the NFC East, but the preseason division favorites are now 0-2 for the first time since 2006. Only once in franchise history have the Redskins qualified for the postseason after opening with two losses (1984) and no team in the NFL has overcome such a start to do so in the past four years.
They can only hope to turn things around next Sunday when the Lions visit FedEx Field.
---
Follow Adam on Twitter @AdamVingan and e-mail your story ideas to adamvingan (at) gmail.com.