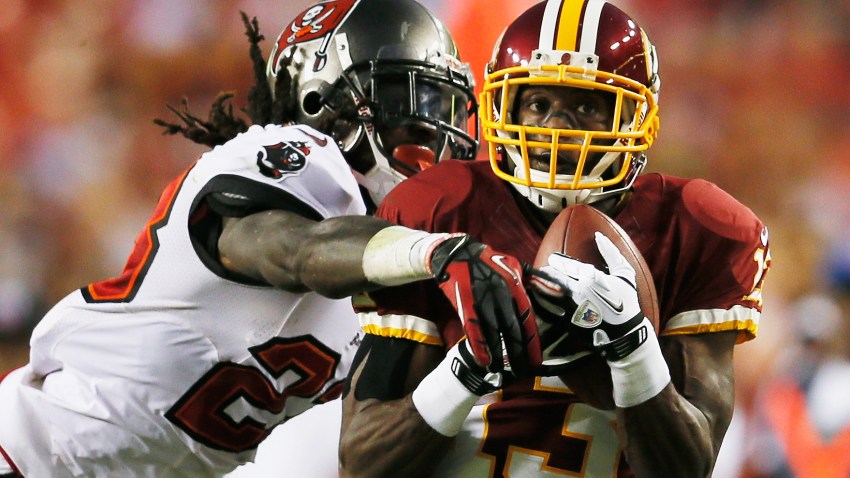 Our national (Football League) nightmare is over. The 2012 preseason has come to an end.
In case you missed the Washington Redskins' 30-3 rout of the Tampa Bay Buccaneers (and judging by the photos taken of the stands before the game, that would be most of you), allow me to fill you in.
Really, you didn't miss much. It was a good old fashioned butt kicking. The fourth and final preseason game has two purposes: to give players on the bubble one more opportunity to impress coaches and for position battles to be fleshed out. With that being said, here is how some of the notable players fared Wednesday:
Running backs Roy Helu Jr. and Evan Royster both played solid games. Helu finished with 90 yards on 15 carries and two touchdowns while Royster earned 44 yards on 10 carries and one touchdown. Both backs -- along with Tim Hightower -- are recovering from injuries, so the 'Skins have yet to anoint one as their starter. Rookie Alfred Morris, who did not play Wednesday, had a strong outing Sunday against the Indianapolis Colts, finishing with 107 yards and a touchdown on only 14 carries.
Brandon Banks returned five punts for 66 yards to go along with one 47-yard reception and one rush for 43 yards. But he also lost a fumble and mishandled a punt. The jack of all trades is probably the most intriguing player heading into the final round of cuts.
At wide receiver, Anthony Armstrong finished with two catches for 61 yards, but Dezmon Briscoe only caught one pass in limited action (he was the last WR dressed for action to get into the game). Perhaps Briscoe's bubble is about to pop.
Now that the meaningless games are behind them, the Redskins can focus on ones that count. The first one is less than two weeks away when Washington travels to New Orleans to take on the Saints.
---
Follow Adam on Twitter @AdamVingan and e-mail your story ideas to adamvingan (at) gmail.com.