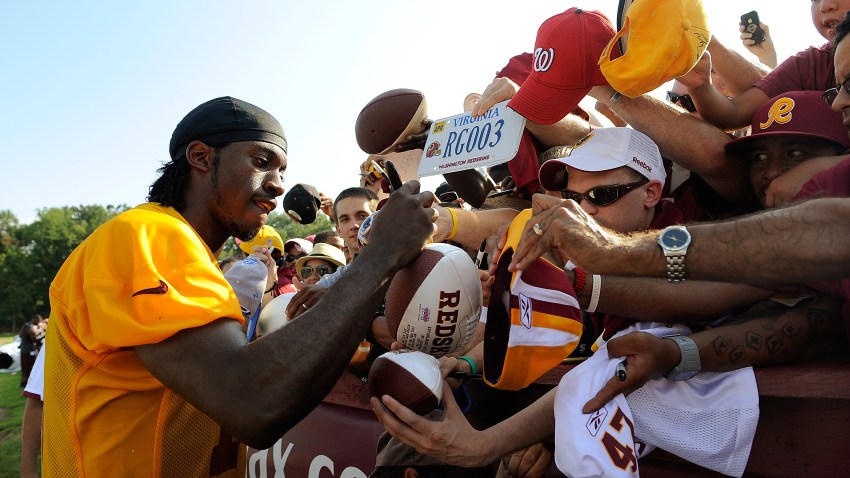 Scorching temperatures in Northern Virginia last week did not stop Redskins fans from catching their first glimpse of their favorite team when they opened training camp.
Highs and heat indices of more than 100 degrees made standing outside in Ashburn very uncomfortable -- uncomfortable enough to rank among the 10 worst training camps weather-wise according to the Weather Channel.
The Redskins earned the dubious distinction of being the sixth-worst camp based on the weather:
The Bermuda High in the Atlantic Ocean pumps both heat and humidity to this portion of Virginia, only to be alleviated by an occasional cold frontal passage. Of all the NFL camps, the Redskin's camp is the calmest, with daily mean wind speeds of only 3.5 mph and a daily maximum averaging 9 mph which equates to a light breeze at best. Low wind speeds provide little relief when exercising; a moderate breeze (15 mph) helps with evaporation and thus cooling of the skin
Meanwhile, the Baltimore Ravens, who train in Owings Mills, Md., ranked eighth.
The Houston Texans, who stay in Houston for camp, "won" the top spot as the worst training camp location.
In case you're wondering, temperature this week in Ashburn will range from the high 80s to mid-90s. Check out this week's forecast here.
I promise neither Doug Kammerer nor Chuck Bell put me up to this.
---
Follow Adam on Twitter @AdamVingan and e-mail your story ideas to adamvingan (at) gmail.com.