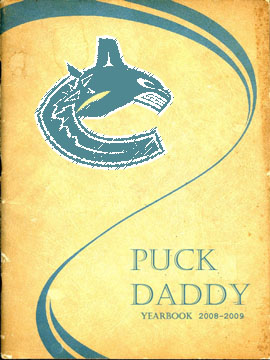 NHL previews are often superfluous collections of popular opinions that, in the end, usually have no relation to how life actually works out. Which makes using stereotypical high-school yearbook superlatives and awards the appropriate template for Puck Daddy's 2008-09 NHL season previews, presented throughout September.
Last Semester: Eleventh in the Western Conference (39-33-10, 88 points). In a season that saw Ryan Kesler literally get stepped on by Chris Pronger, the Vancouver Canucks were trampled by a number of new contenders in the West vying for playoff berths; finishing behind a young Chicago Blackhawks team and a resurgent Edmonton Oilers club, as well at the No. 8 seeded Nashville Predators.
Someone had to pay the price, and that someone was named GM Dave Nonis. Vancouver canned the Brian Burke acolyte and after a less than extensive search replaced him with former NHL player and agent Mike Gillis, who promptly told the world that Nonis had screwed up the team.
Mr. Gillis's solution? He signed coach Alain Vigneault through the 2009-2010 season. He let captain (and former client) Markus Naslund and center Brendan Morrison leave. He inked free agent Pavol Demitra, and made a run at RFA David Backes of the St. Louis Blues, which infuriated the Blues and created a battle of dueling offer sheets. And he offered Mats Sundin the gross domestic product of Namibia for two seasons in Vancouver.
Homecoming King (Top Player): Roberto Luongo saw a slight decline in his stats (2.38 GAA, .917 save percentage) from the previous season, but continued to be one of the NHL's elite goaltenders. Even if the birth of his child was selfishly more important that dragging a mediocre Canucks team to the postseason. (Kidding.)
It is, of course, a tribute to a goaltender's dominance when other teams begin to bitch about the legality of the smallest details of this equipment. Such is the case of the now-banned "flaps" on Luongo's pads.
The real question: How will a more offense-oriented philosophy being pushed by management affect Luongo's numbers?
Most Likely To Succeed (Potential Breakout): The Canucks have a rather interesting conundrum in center Ryan Kesler. Here's a player that managed 21 goals last season in a defensive, agitating role. Yet this preseason, he's shown a tantalizing offensive potential, to the point where Kesler said he fancies himself as a Jarome Iginla-like player that can be a physical and goal-scoring force (though obviously not in that league).
Perhaps he remains on a hard-working grunt line with Alex Burrows. Perhaps he's moved up the lineup. The bottom line is that the 24-year-old is clearly developing into a major two-way threat with a bit of snarl.
Best Expulsion (Addition by Subtraction): If there's been a more dramatic change in the power structure of a locker room during this off-season, we haven't found it. Trevor Linden's retirement robbed the Canucks of their elder statesman, an epitome of class. The decision not to bring back Markus Naslund left the team without a captain and without a front line player on the roster since 1996.
But the decision to allow Brendan Morrison to leave was a good one. His numbers where in steady decline, and his glory days as a No. 1 pivot for Vancouver were long over. Perhaps the only regret was not getting anything for him prior to his departure.
Exchange Students (Key New Additions): Gillis's first off-season as an NHL general manager was ... interesting.
Former Minnesota Wild forward Pavol Demitra was the biggest name to sign with the Canucks. Getting a veteran player with some offensive upside in for just a two-year contract was a win for Gillis, no matter what Demitra does or does not do on the stat sheet. In the preseason, they've had him with wingers Mason Raymond and Taylor Pyatt.
Center Ryan Johnson will offer the Canucks some flexibility lower in the lineup. Gillis traded for right wing Steve Bernier, which had many wondering why the Buffalo Sabres would give him up so quickly. Then there was the plight of Kyle Wellwood, who was rescued from waivers by the Canucks only to have his level of fitness openly questioned during the preseason. Having sampled the cuisine in beautiful Vancouver, this will not end well.
Class Clowns (Pests and Pugilists): Kesler and Burrows have established themselves as two of the best pests in the Western Conference, and they're the worst kind: Agitators that can play a little hockey, too.
The Canucks had 68 fights last season, including 12 from Jeff Cowan, six from Burrows and five from Rick Rypien, who helped give the world this absolutely classic fight with Daniel Carcillo last season:
Teacher of the Year: Logically, Alain Vigneault doesn't seem long for this job. He's a defense-first guy managing the bench for a GM that clearly wants an aggressive offensive team.
But then why was he given a two-year extension?
Gillis is right: The team's personnel was mismanaged, and Vigneault suffered for it. He's a good coach, one of the best in the conference, and deserves a full season behind the pine to help re-establish those credentials. He has many moving parts to manage, and it's going to be a difficult puzzle to solve. But he's certainly not going to be the first coach fired this season, if at all.
The Custodians (Goalies): What else can you say about Luongo? Other than the fact that he's two years away from unrestricted free agency. And that he's pretty handy with a dirty diaper.
Bottom line is that Luongo is one of those goalies who can win you a game on his own. And those are in short supply in the NHL these days.
Curtis Sanford, he of the spiffy fan-designed mask, will be the little-used backup this season.
The Hall Monitors (Defensemen): Not exactly a strongman competition here. Mattias Ohlund, Sami Salo and Willie Mitchell are veteran puck-moving defensemen who can help transition this team into a more offensive mode. Lukas Krajicek is another defenseman cut from that mold.
When healthy, Kevin Bieksa is one of the only players on this blueline that can bring the hurt, tallying 90 PIM last season and 134 two years ago.
Young Alexander Edler will be counted on again this season, after seeing his ice time jump by nearly 10 minutes over the last two seasons.
Point of interest: Ohlund is in his UFA walk year. Keep that in mind if the Canucks aren't exactly Cup contenders come January.
Most Likely To Earn a Wedgie in the Hallway (Potential Flop): Bernier. If he's playing up with the Sedins, then his numbers should increase dramatically.
Should ... but will they? The more he plays, the more enigmatic Bernier's game seems to become. The Buffalo Sabres got him in the Brian Campbell trade, and then dealt him for two draft picks. That's just odd, considering he didn't play all that badly after arriving from San Jose.
The hope is that he's the next Anson Carter for Daniel and Henrik Sedin. But that demands a consistency that's eluded him as an NHL player thus far.
AV Club (Media): The Vancouver Province does a fantastic job covering all aspects of the team, and those wily mischief makers at the paper's Orland Kurtenblog offer an irreverent take on the team and hockey in general.
The Canucks are blessed with one of the most vibrant non-MSM blogospheres on the hockey Web. Canucks and Beyond is a gold-standard hockey blog run by Alanah McGinley; Canucks Hockey Blog is a great source for news and comment, and you can find links to The Crazy Canucks Podcast there; Tom Benjamin's must-read blog covers the Canucks and the business of the NHL; and Waiting for Stanley brings a ton of humor to frequently updated news. There are many, many more out there, too.
Toughest Class (Biggest Issue Facing the Team): There wasn't a player within 18 points of either Henrik Sedin or Daniel Sedin last season on the Canucks' scoring list. Expect the same sort of ranking again this year, because unless the chemistry on the team's other lines works beyond all expectations this is a team that's going to struggle mightily to score goals.
2008-09 Preseason Report Card:
Forwards: B-
Defense: B-
Goaltending: A
Special Teams: B
Coaching: B+
Management: D+
Prom Theme: "The Waiting Is the Hardest Part" by Tom Petty. This season's fortunes aside, the fate of this franchise is going to be decided by Roberto Luongo's next contract and the contracts for the Sedins, who are both unrestricted next summer. Gillis wants all three signed; whether it happens and how it happens is going to be a game-changer for the Canucks.
Expected Graduation: Luongo made an interesting, if a tad too wistful, remark about this year's team in comparison to the one that made the postseason two years ago:
"There were a lot of new faces and a lot of people didn't know what to expect and we ended up having a great season. I get that same feeling a bit this year. I think guys are going to be excited to play and once we all get together and play as a team, I think we're capable of great things."
It could happen. This team, whose offensive looks D.O.A. and whose question-filled lineup looks like it could change on a weekly basis, might develop quick chemistry and surprise some rivals. With Luongo in goal, an underdog fight for the postseason isn't out of the question.
But here's the reality: They're in the Western Conference. There isn't a team in their division the Canucks can rightfully claim to be better than, and there will be at most three playoff slots that aren't already accounted for in the conference.
Vancouver may have more fight than anticipated. But they're going to get knocked out before the postseason.
Copyright PuckD - Puck Daddy