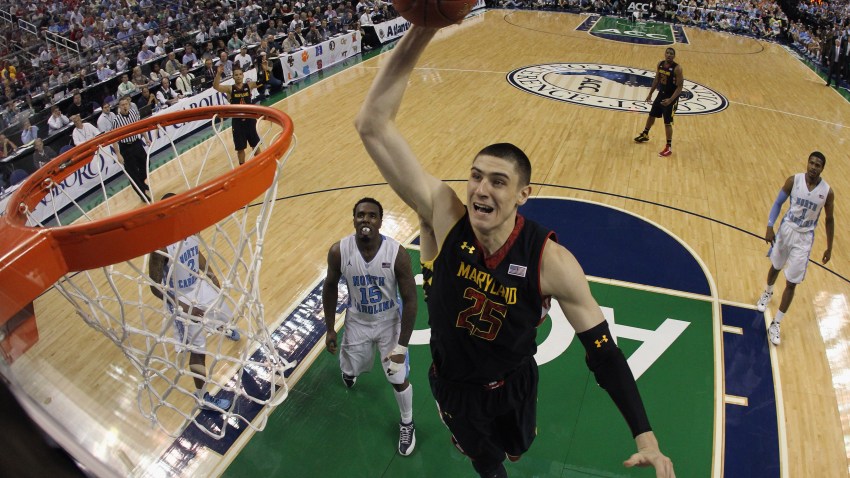 With the 2013 NBA Draft looming next week, reports have recently surfaced that former Maryland center Alex Len could be the first overall selection, which is owned by the Cleveland Cavaliers. The 7-footer is just one of several top prospects in a talent-laden draft class that will provide next Thursday's draft with plenty of intrigue.
With Len's stock at an all-time high, ESPN's Bill Simmons and Jalen Rose recently sat down with the Ukranian big man to discuss his NBA potential and other important topics.
On his style of play:
"Before I got to the United States, I used to play a European style of play, where you could do everything you want, so I played a lot of face-up, I shot a lot. When I got to the United States, my coach said you're going to make your money on the block. I started changing my game, trying to learn how to be productive on the block and started shooting more jump hooks and working on it."
On learning how to speak English:
"I think what makes me different is that I came from another culture. In two years, when I came I didn't speak any English.
"I took a lot of classes at Maryland, I would learn English really hard. My days were starting at 8 a.m., had four or five hours in study hall, just learning English on my own. It was really tough. I had challenges, not just on the court, but off the court, in the movie theater, I couldn't order food. I had to point with my fingers. It was fun. It was a lot of fun. My teammates helped me a lot, my coaches and my teammates."
On if the women in Ukraine are as beautiful as Bill Simmons has heard they are:
"Everyone asks me the same question. I'm sure they are, because the history of Ukraine, 200 or more years ago, it's a lot of cultures. We have different Armenian people, born from different cultures. It's a mix."
On what he would say to a fan base worried about their team picking a player recovering from injury:
"I'm trying to be proactive with this injury right now. I'm just going to work hard to come back as fast as I can, to be better than I was before."

On hating Duke:
"First thing I learned in college."
After English, of course.
---
Follow Adam on Twitter @AdamVingan and e-mail your story ideas to adamvingan (at) gmail.com.