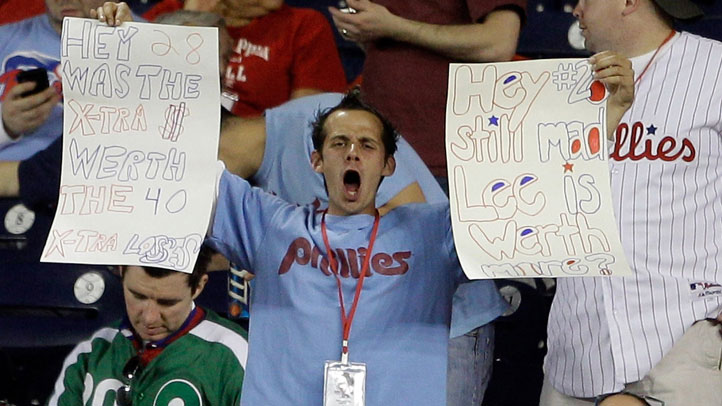 Last month, the Washington Nationals unveiled "Take Back The Park," a campaign that made tickets to the first home series against the Philadelphia Phillies available only to residents of D.C., Maryland and VIrginia in an attempt to prevent the mobs of Phillies fans that descend upon Nationals Park from watching their team play.
To put it politely, Philly fans were less than enthused about those developments (even making it onto the front page of the Philadelphia Inquirer). Now, they plan to do something about it.
Philadelphia-centric blog Crossing Broad has announced "The Takeover," a plan to counteract "Take Back The Park." According to the post, Crossing Broad, along with road-tripping company Phans Of Philly, have acquired 200 seats in right field (behind former Phillie Jayson Werth, no less) for the series finale May 6.
May 6 happens to be a Sunday, which might deter some fans from traveling, but Crossing Broad has their reasoning covered:
Now, you might be asking: Why Sunday night? We understand that, for some, a Friday or Saturday trip would work better. But, as per the usual, we like to do things a bit differently around here. The Nationals are an up and coming team-- we can't deny that. The Sunday night game on ESPN will be the first real national exposure for what could be a legitimate rivalry over the next few years, and we want to put our stamp on the matchup so the whole country can see it. What better way to do so than on ESPN's Sunday Night Baseball.
The cost of the trip is $120, but a Nationals win on national television and some Philly comeuppance? Priceless.
---
Adam Vingan is co-founder and editor of Kings Of Leonsis, a Caps-centric blog, and is the Capitals Editor for SB Nation. Follow him on Twitter @Adam_KOL and e-mail your story ideas to adamvingan (at) gmail.com.