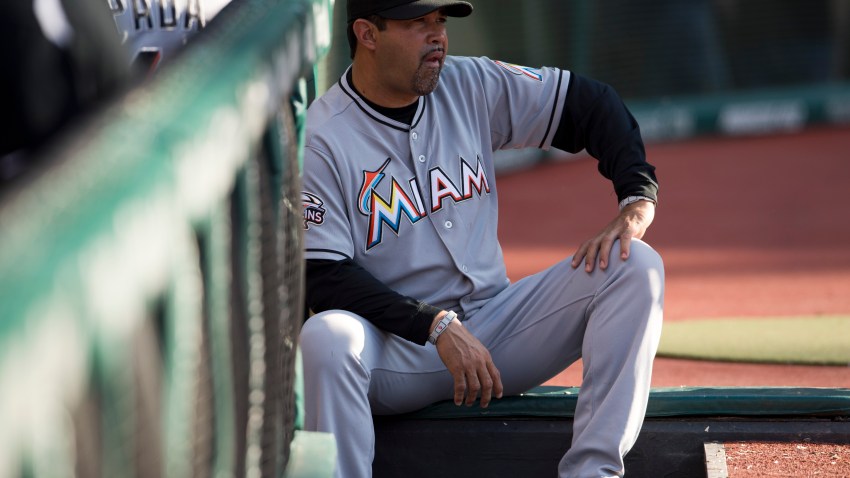 In case you missed it, there was a little spat between Washington Nationals outfielder Bryce Harper and Miami Marlins manager Ozzie Guillen during the teams' meeting Sunday.
Never fear. CSN Washington's Mark Zuckerman has you covered:
What did Harper do to upset Guillen? He apparently stepped to the plate in the top of the first inning with pine tar too far up the barrel of his bat. Guillen alerted the umpiring crew, which informed the Nationals, who had Harper change to another bat for his second at-bat.

But when Harper came up to hit in the top of the third, he pointed his bat toward the Miami dugout. Guillen started yelling from his perch, first at Harper and then at Nationals manager Davey Johnson.
For those of you who like visual aids, you're in luck.
So what did the always-outspoken Guillen have to say?
"I was just telling him how cute he was," Guillen said, refusing to divulge details. "Something happened there the inning before, and I didn't like it and I was talking to the umpire about it."
No, but really.
"I could have said a lot of [stuff] about this kid," Guillen said following his team's 4-0 loss to the Nationals. "I've been praising this kid like every day. The last three times they asked me about him, the only thing I said was he's a great player. What he did [today] was unprofessional."
As you would expect, Harper deflected alll questions regarding the incident, praising Guillen instead.
"He battles for his team, and that's the type of manager Ozzie is," the 19-year-old All-Star said. "He's a great manager to play for. He's going to battle for you, no matter what. That's a manager you want to play for."
Well, it's settled. I'm watching the next episode of "The Franchise."
---
Follow Adam on Twitter @AdamVingan and e-mail your story ideas to adamvingan (at) gmail.com.