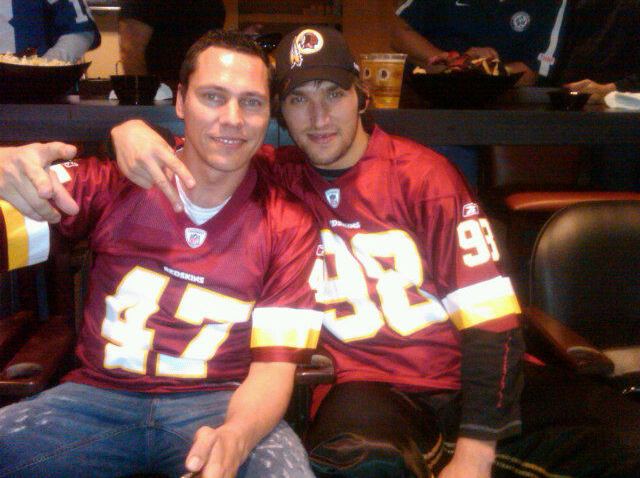 Last night we received the news that Caps fans have been waiting for. Alex Ovechkin has returned to Twitter!

"Ok twitter friends im back!" he tweeted.

And boy was he.
After more than two years of Twitter silence, he spent the night tweeting, making the Caps PR guys nervous, and racking up followers -- more than 7,000 in just a few hours.
The one that made us laugh the most was Ovi simply tweeting "Hahahhaahhaa" and linking to a picture taken by Ovie of Phil Kessel sitting by himself, waiting to be picked at the 2011 All Star Fantasy Draft.
Shortly after, the National Post jumped into the mix in defense of Kessel with this gem:
"Of course, the joke in this case may be on Ovechkin: lonely Kessel up there has 26 goals. Ovechkin? A measly 25. Hahahhaahhaa indeed, sir."

For those of you who don't follow him (@ovi8), do it. Do it right now. One of the reasons fans love the Caps star, aside from his electricity on the ice, is his playfulness and accessibility. His Twitter feed is all Ovi and it is hilarious.

Caps fans aren't the only ones happy to see him back. It turns out Chad Ochocinco is a fan.

"Where have you been? I'm coming to DC, you have any extra tickets, I love you man, you're awesome," the wide receiver tweeted to Ovie after his triumphant return.

We're not sure what brings him back (a Caps' PR rep tweeted last night that Ovi finally remembered his password ... and then deleted the tweet; while Puck Daddy hears the Twitter return is all Ovie's doing) but we're thrilled to see it.
So, happy tweeting to our favorite Russian. Just beware of those hackers...