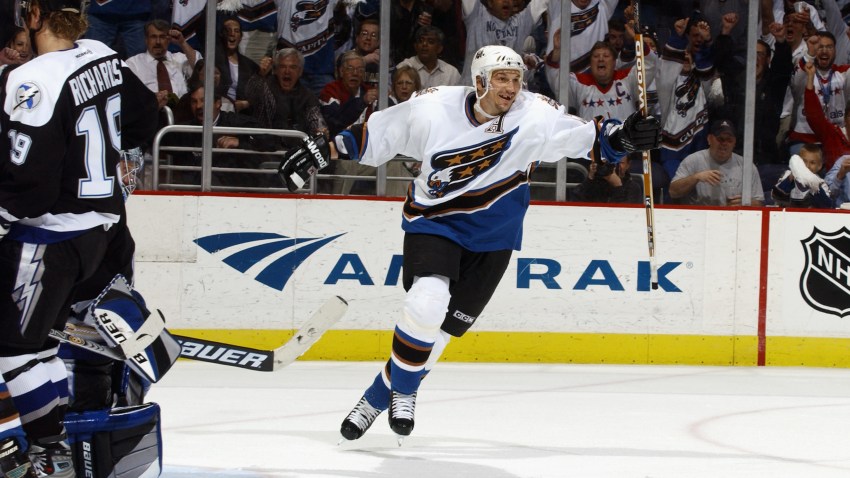 Today is Dec. 12, 2012, or 12/12/12, which is not as awesome as last year, when on Nov. 11, 2011 -- 11/11/11 -- at 11:11 a.m., I was in my apartment, which is No. 1111, but I digress.
Anyway, in honor of this day, the last major numerical date of this century, I will pay homage to each of the most famous athletes to wear No. 12 for Washington's four major professional sports teams.
Capitals - Peter Bondra
I start with the most successful No. 12 in D.C. sports history. "Bonzai" played 14 seasons in Washington and still holds franchise records in goals scored (472), points (825), even-strength goals (303), power play goals (137), shorthanded goals (32), game-winning goals (73) and shots (3,290).
Nationals - Alfonso Soriano
I'm only including the Nationals, not the Expos, so sorry, Mike Mordecai.
Soriano only played for Washington for one season -- 2006 -- but was perhaps the first high-profile player to join the Nationals' ranks. Soriano led the team with 46 home runs and 41 stolen bases, making him just the fourth player in MLB history to join the 40-40 club. Soriano is still the most recent member of that esteemed club and I use "esteemed" lightly because Jose Canseco, Barry Bonds and Alex Rodriguez are in there.
Redskins - Gus Frerotte
Now is when things get a little iffy. Don't get me wrong, Frerotte was a serviceable quarterback during his five years with the Redskins -- he made a Pro Bowl once, remember? -- but what he is best known for -- and wlll continue to be for the rest of his life -- is being the guy who sprained his neck after headbutting a concrete wall in celebration of a touchdown.
Wizards - N/A
Yeah, about that...
The Wizards have had six No. 12s since 2006: Billy Thomas, Juan Dixon, Earl Boykins, Kirk Hinrich, Othyus Jeffers and A.J. Price. And let me tell you, these guys have combined for some great moments, like...um...well, there was...no...huh.
See you for the next installment where we celebrate the best No. 1s on 1/1/01 -- January 1, 2101.
---
Follow Adam on Twitter @AdamVingan and e-mail your story ideas to adamvingan (at) gmail.com.