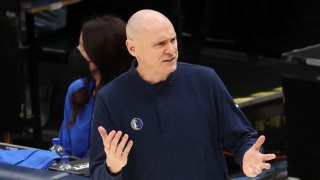 Pacers hire Rick Carlisle, shake up NBA coaching search originally appeared on NBC Sports Washington
In major news few seemed to predict, the Pacers have hired Rick Carlisle to be their next head coach, returning Carlilse to the team he coached before he took over the Dallas Mavericks. ESPN first reported the news.
Carlisle left the Mavs earlier this month following a front office upheaval. One week later, he has landed in Indiana, where he coached from 2003 to 2007. Carlisle led the Pacers to 61 wins in his first season, only to win fewer games each subsequent year before he was fired. 
Carlisle has since established himself as one of the most respected and successful coaches in the game. He led the Mavs to the NBA title in 2011 with Dirk Nowitzki as they surprised the LeBron James and Dwyane Wade-led Miami Heat in the NBA Finals.
Carlisle joining the Pacers leaves five head coaching vacancies around the league, including the Wizards. Washington was not linked to Carlisle and appears to be more interested in NBA assistant coaches instead of those with prior head coaching experience.
Regardless, Carlisle did not appear to choose Indiana over them, or any other team. There were few rumors about his next step before he rejoined the Pacers.
Carlisle heading to Indiana gives them the experience coach they were reportedly looking for after the failed experiment with Nate Bjorkgren, who was fired after one season on the job. He replaced Nate McMillan, who had them on a 51-win pace last season before he was let go. McMillan is currently coaching the Hawks in the Eastern Conference Finals.
Carlisle should give the Pacers a good chance of returning to the playoffs. They have plenty of talent, but underachieved last season, and he's got a strong track record of getting the most out of his teams.
The Carlisle hiring may not affect the Wizards directly, but it may lead to another Eastern Conference team, one the Wizards knocked out of the play-in tournament, getting much better.
Copyright RSN