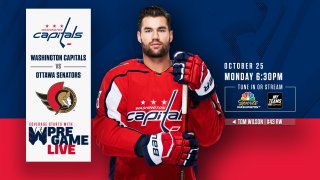 How to watch Capitals vs. Senators originally appeared on NBC Sports Washington
The Washington Capitals' start to the 2021-22 season has gone nearly as good as possible.
Washington has earned eight points in its first five games, including blowout victories over the Rangers, Avalanche and Devils. Both of Washington's two losses have come in overtime, meaning the Capitals have earned at least one point in every game they've played this season.
The Capitals will look to continue their hot start to the 2021-22 campaign on Monday night as Peter Laviolette's squad travels north of the border for the first time this season.
Here's everything you need to know for Capitals-Senators...
CAPITALS VS. SENATORS HOW TO WATCH
What: Washington Capitals vs. Ottawa Senators
Where: Canadian Tire Centre, Ottawa, Canada
When: Monday, October 25, 2021, at 7 p.m. ET
TV Channel: Capitals vs. Flames will be broadcast on NBC Sports Washington+ (NBC Sports channel finder)
Live Stream: You can live stream Capitals vs. Flames on NBC Sports Washington's live stream page and the MyTeams app.
CAPITALS VS. SENATORS TV SCHEDULE
6:30 p.m. Capitals Pregame Live
7:00 p.m. Capitals vs. Senators
9:30 p.m. Capitals Postgame Live
CAPITALS VS. SENATORS WHAT TO WATCH
For the Capitals, one of the biggest storylines thus far in the young 2021-22 season has been the rejuvenation of Evgeny Kuznetsov. The forward had a season to forget one year ago but is playing arguably his best hockey since the team's 2018 Stanley Cup run as of late.
Kuznetsov has scored four goals and notched five assists thus far (nine points), trailing only Alex Ovechkin (10 points) for the team lead. Both players each have totaled five assists on the year, which is the best mark on the team.
CAPITALS VS. SENATORS PLAYERS TO WATCH
Alex Ovechkin, LW, Capitals (5 games, 5 goals, 10 points): Anytime the Capitals take the ice, star winger Alex Ovechkin is the player to keep an eye on the most. He's atop the Capitals' points list thus far and stopping him will be the Senators' No. 1 priority on Monday night.
Connor Brown, RW, Senators (5 games, 0 goals, 4 points): In 56 games for the Senators last year, Brown scored a career-high 21 goals for Ottawa. However, he has yet to find the back of the net once this season -- something he'll be looking to change against Washington on Monday night.
Copyright RSN