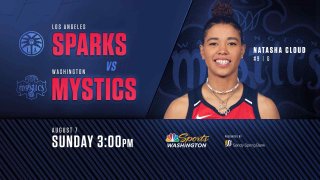 How to watch Mystics vs. Sparks originally appeared on NBC Sports Washington
With less than five games to go in the regular season and a playoff berth already in hand, the Mystics will play host to the Sparks in a Sunday afternoon clash at Entertainment & Sports Arena. 
Washington clinched a playoff spot after a home victory over the Seattle Storm and is now jockeying for positioning with Seattle as the regular season comes to a close. The Sparks are fifth in the West and are on the outside looking in regarding the WNBA playoff picture. 
Here's everything you need to know to watch the game on NBC Sports Washington.
MYSTICS vs. SPARKS HOW TO WATCH 
What: Washington Mystics vs. Los Angeles Sparks
Where: Entertainment & Sports Arena, Washington D.C.
When: Sunday, August 7, 3:00 p.m. ET 
TV Channel: Mystics vs. Sparks will be broadcast on NBC Sports Washington
Live Stream: You can live stream Mystics vs. Sparks on NBC Sports Washington's live stream page and on the NBC Sports App.
MYSTICS vs. SPARKS TV SCHEDULE
3:00 p.m.: Mystics vs. Los Angeles Sparks (LIVE) 
MYSTICS vs. SPARKS WHAT TO WATCH 
As the Mystics close out their regular season schedule, they're in the thick of a battle for a top-four seed in the WNBA playoffs. Sitting in third place in the East, Washington is in direct competition with Seattle in the West and potentially Connecticut, who is just a few games ahead of the Mystics in the Eastern Conference standings. 
The Storm hold the tiebreaker over the Mystics, meaning Washington will have to finish with more wins than Seattle to clinch home court advantage in the first round. The good news for the Mystics is that the Storm's remaining schedule includes three combined matchups against the No. 1 and No. 2 teams in the league (Chicago, Las Vegas).
MYSTICS vs. SPARKS PLAYERS TO WATCH 
Natasha Cloud (11.1 ppg, 3.8 rpg, 7.3 apg): The 2022 season has been Cloud's best as a pro as she's averaging career-highs in points, rebounds and assists. In the Mystics' win over Las Vegas Tuesday, she led the way with 16 points, nine assists and four rebounds.
Nneka Ogwumike (18.6 ppg, 6.7 rpg, 2.1 apg): The 2016 WNBA MVP leads the Sparks in scoring this season and will have to continue to carry the scoring load the rest of this season after LA's No. 2 scorer, Liz Cambage, left the team via a contract divorce.  
Copyright RSN