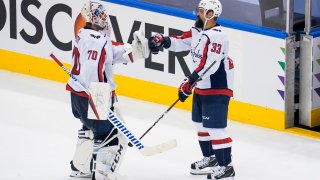 Breaking down the future for the Capitals' pending free agents originally appeared on NBC Sports Washington
Every year, every roster in the NHL goes through changes. Contracts expire, trades are made, players are signed, etc. and the Capitals are no different. Whether you loved the roster the team put together in 2019-20 or not, there are going to be changes next year as the team has a number of expiring contracts. Just how much the roster changes will depend on what general manager Brian MacLellan wants to do, but here is a look at each of the team's pending free agents and how likely they are to return next season.
Travis Boyd
Cap hit in 2019-20: $800,000
Free agent status: RFA (arbitration eligible)
Boyd did not get as many opportunities over the regular season as he probably should have, especially considering he had 10 points in just the 24 games he played. Having said that, the playoffs have a way of revealing hard truths and the hard truth on Boyd is that the team doesn't trust him. At least, Todd Reirden didn't. With Nicklas Backstrom knocked out of Game 1, this should have been Boyd's time to shine. Boyd's ice time was cut to just 6:38 in Game 2 against the New York Islanders. That was the last time he would play as he was replaced by Brian Pinho. Pinho is a fringe NHLer at best and had only 3:22 of ice time in Game 4.
Think about that. Reirden played the player who replaced Boyd only 3:22.
Now, perhaps MacLellan feels differently about Boyd than Reirden does, but there are two big factors working against a possible return. First, the Caps are going to be really tight against the salary cap, especially with a flat cap. It is going to be hard to justify giving a player like Boyd a raise just to be a healthy scratch. Second, Boyd is arbitration eligible. You know what would really hurt the Caps? Getting locked into a contract they can't afford through arbitration.
Chances he is back with the Caps: Low
The Caps seemed to quickly lose trust in Boyd when they needed him the most. It seems unlikely MacLellan would turn around and give him a raise just to keep him or risk going to arbitration
Brenden Dillon
Cap hit in 2019-20: $3.27 million ($1.635 million for the Caps)
Free agent status: UFA
Sometimes fans can quickly become enamored with rental players and that was certainly true of Dillon. Maybe it's because he's such a likable person or maybe it's because he dropped the gloves with Evgeni Malkin in just his third game with his new team. Whatever the reason, a very vocal contingent of fans wants him back very badly.
Both MacLellan and Dillon have been positive on Dillon's time with the Caps while also staying non-committal on the future so it's hard to know exactly where things stand. From the team's perspective, it would absolutely be the right move to bring him back. He played well on the top pair with John Carlson and with Michal Kempny being a question mark in the future, I don't think the team can afford to let a defenseman like Dillon walk out the door.
Ultimately, however, as UFA, he will have to want to come back as well and it's not as if the Caps have the cap room to break the bank for him.
Chances he is back with the Caps: Significant
As a UFA, the decision is largely up to him. If he wants to be back, I think he will be.
Radko Gudas
Cap hit in 2019-20: $3.35 million ($2.345 million for the Caps)
Free agent status: UFA
It sure seemed initially like the Caps got the better end of this trade. Washington sent Matt Niskanen and his $5.75 million cap hit to Philadelphia for Gudas. The Flyers even retained some of Gudas' salary as part of the bargain. But as the season went along, Gudas' play deteriorated to the point that he was the team's No. 7 heading into the postseason. The Caps need depth on the right side, but they ended up with two depth right defensemen and no one who could really play on the second pair.
Chances he is back with the Caps: Almost zero
The Caps need a top-four right defenseman, not another third-pair one. He gone.
Braden Holtby
Cap hit in 2019-20: $6.1 million
Free agent status: UFA
What will likely be Holtby's last season in Washington was, unfortunately, a disappointing one as Holtby delivered career-low numbers in both save percentage (.897) and GAA (3.11). He was largely outplayed by rookie Ilya Samsonov for much of the season and it certainly seems like Samsonov will be the No. 1 going forward into next season. Holtby's last shot at forcing the team to keep him came in the postseason when Samsonov was left behind in Washington with an injury.. Holtby's numbers improved, slightly, to a .906 and 2.49 GAA, but he was still shaky, especially in Game 1 against New York.
The Caps will need a goalie to work in tandem with Samsonov, but, given the tight salary cap situation, they cannot afford to even pay Holtby's $6.1 million next season.
Would it make sense for the Caps to bring back Holtby if they could get him at the right cap hit? Perhaps. The glut of starting caliber goalies who will be available as free agents will water down the goalie market meaning Holtby may not earn as much on the open market as previously thought, especially considering he had a down year and is 30. With that in mind, perhaps there is still a chance he could return. On the other hand, it sure does not seem like it would make sense for Holtby to come back for less than he could get on the market, no protection from the Seattle expansion draft and a short-term deal hoping his numbers will somehow improve deeper into his 30s just so he can play the No. 2 role to Samsonov.
Chances he is back with the Caps: Very low
The goalie market and the flat cap make it more likely than previously thought, but Holtby would still have to sacrifice too much in order to return.
Ilya Kovalchuk
Cap hit in 2019-20: $700,000 ($350,000 for the Caps)
Free agent status: UFA
Kovalchuk was acquired at the trade deadline to provide depth scoring and contributed a whopping one assist in the playoffs. It's not all his fault as he spent much of the playoffs playing with Boyd and Pinho at center instead of Lars Eller, but suffice to say the Caps did not get what they were hoping for when they traded a third-round draft pick to get him.
At 37 years old, the team will have better options for their third line next season than Kovalchuk.
Chances he is back with the Caps: Practically zero
Kovalchuk going back to Montreal seems like a slam dunk.
Jonas Siegenthaler
Cap hit in 2019-20: $714,166
Free agent status: RFA (not arbitration eligible)
Siegenthaler is only 23, he's a budding top-four defenseman, he is already one of the team's best penalty killers and he is an RFA without arbitration rights. We don't need to go too in-depth on this one.
Chances he is back with the Caps: 99.9-percent
There is no reason Siegenthaler should not be back next season, barring something completely unexpected.
Copyright RSN