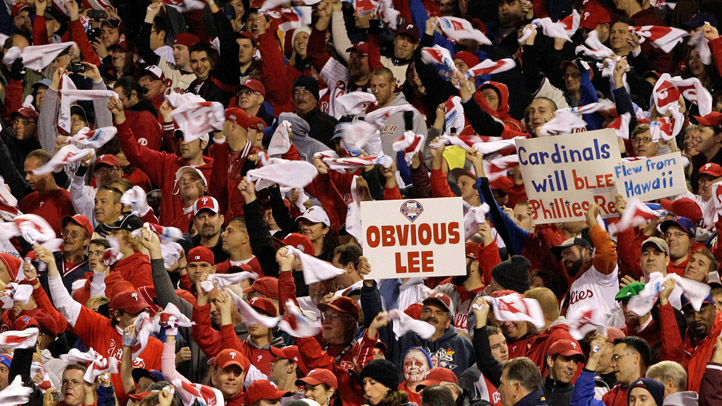 Each season, the Phillies fan invasion of Nats Park is big news. Fans come by the busloads, turning the stadium into a home away from home to the embarrassment of the Nationals.
A home series against the Phillies is a frustrating few days around these parts. There have been fan calls to action and even Jayson Werth has gotten involved in the debate.
The Nationals have finally decided that maybe they should step in and stand up for their fans. Starting Friday, the Nationals will be offering a special pre-sale to all fans in the DMV in an effort to give them first crack at tickets for the series against Philly on May 4-6.
According to the email we got this morning, the team is taking every precaution to make sure that the tickets go to actual Nationals fans.
To take advantage of this offer, Washington-area fans can visit nationals.com/ourpark starting today to register for the presale. Upon verification, they will receive a one-time-use password to complete the order. The Nationals will also verify matching registration and billing information so that tickets are only mailed to local addresses in D.C., Maryland or Virginia in March.
They stop just short of making you answer trivia questions to make sure you're not an impostor.
Dan Steinberg chatted with Nats COO Andy Feffer, who is taking the hardline against Phillies fans.
"We've got some other things planned for the Phillies," Feffer also said. "Don't expect their buses to be hanging out and dropping off their fans right around the ballpark here. I'm gonna stick 'em across the river if I can, make 'em swim across."

This was a joke, of course. And neither he nor I would like you to be overtly rude to any out-of-town visitors who find their way inside.

"Seriously, for those fans who do come, we treat all guests with respect and courtesy," Feffer said. "But look, we're not gonna make it easy for group sales, for buses coming from Philly. I will not make it easy for those guys to buy tickets or get into this ballpark. Once they're here, obviously we treat all our guests as patrons, with respect."
This isn't a guarantee that there won't be a Phillies invasion this season. This plan only works if Nats fans actually buy those tickets in the pre-sale. It also doesn't account for Phillies fans who happen to live in D.C.

Still, it's a step in the right direction, and clearly the team is tired of seeing a sea of Phillies jerseys at Nats Park.

"Someone asked me, 'What do you think of Philly and Phillies fans and the series?'" said Feffer. "I couldn't be more direct. I said, 'Forget you, Philly. It's our fans, our time, our park and we are going to fill it with Nationals fans.' We are going to do everything we can to ensure our fans here in Washington that first opportunity to make that happen."

You heard him, folks. Get to buying.

Questions, comments or tips? Email Sarah at sarahskogod@gmail.com. You can also follow her on Twitter (@sarahschorno).