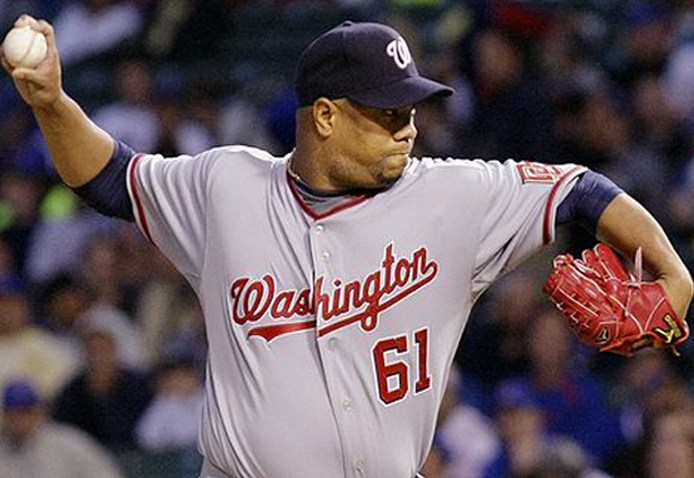 The Washington Nationals will fight an eighth consecutive loss Saturday night, as they continue their weekend series against the visiting Florida Marlins.
The Marlins's 9-6 win Friday against the Nats completed the team's third straight victory as catcher John Baker homered and matched a career-high with four RBIs, and Hanley Ramirez drove in two runs.
On Saturday, the Nationals will counter with former Marlins' World Series hero Livan Hernandez (7-9, 5.26) in this contest.
Hernandez, the 1997 World Series MVP for the Marlins, is 13-7 with a 3.41 ERA in 27 starts against Florida.

On Friday, Washington got within 4-2 in the second on Alberto Gonzalez's two-run triple.
Baker's two-run homer made it 6-2 in the third. Jorge Cantu drew a leadoff walk before Baker lined a pitch into the first row of the left-field stands for his career-high ninth homer.
Ryan Zimmerman tripled with two out in the bottom of the inning, then scored on Adam Dunn's bad-hop single past first. Willingham hit Sean West's next pitch over the wall in left for a two-run homer, making it 6-5.
Both starting pitchers departed after three innings. West gave up five runs on seven hits and struck out four. Garrett Mock (3-7) allowed six runs on seven hits.
Baker singled home Ramirez, who had led off the fifth with a double, for a two-run lead. Ramirez's sacrifice fly and Baker's RBI single made it 9-5 in the sixth.
Zimmerman drove in a run with an infield single in the eighth.
Notes on Friday's Nats-Marlins match: The outing was West's shortest in 17 career starts. ... The Nationals added LHP Victor Garate to the roster before Friday's game. Garate was claimed off waivers from the Los Angeles Dodgers to complete an Aug. 30 trade for IF Ronnie Belliard. Washington also activated C Jesus Flores from the 15-day disabled list, but he is still strengthening a right shoulder injury and will initially be limited to pinch-hitting duties.
Copyright AP - Associated Press