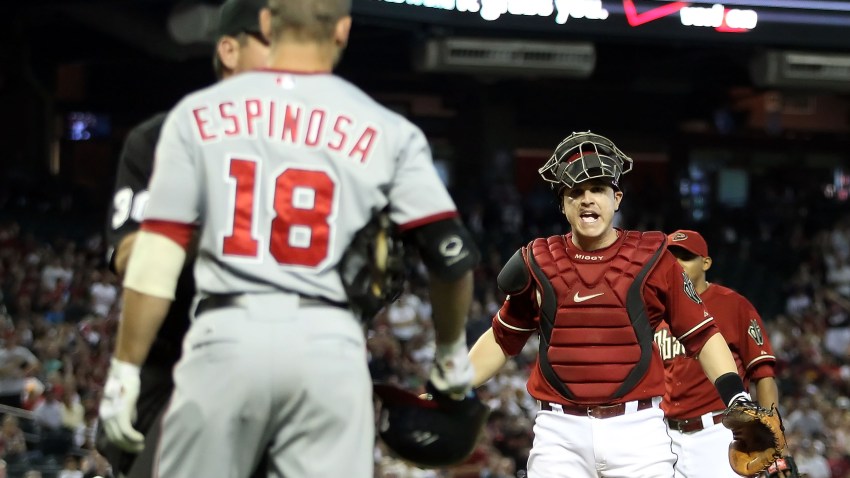 When you think of heated rivalries in baseball, Yankees-Red Sox and, more recently, Cardinals-Reds come to mind. But Nationals-Diamondbacks? That's a new one.
A total of 10 batters were hit in the four-game series between the Nats and D-Backs this past weekend in Arizona. Sunday's finale proved to be the most dramatic, with five hit batters and two ejections.
In the top of the fifth, Jayson Werth was hit by Ian Kennedy on a 0-0 count and both benches were warned. However, when Michael Morse was plunked a few batters later, home plate umpire Rob Drake decided it wasn't intentional and Kennedy remained in the game.
It was a different story for Nats starter Jason Marquis.
In the bottom of the sixth, Marquis was facing Upton with a 1-run lead and Kelly Johnson on first. What appeared to be a slider that got away hit Justin Upton, and Marquis was ejected along with manager Jim Riggleman. It was the fourth time Upton was hit in the series by Nats' pitchers.
Marquis was visibly upset with the call and pointed to the scoreboard to let the umpire with three years' experience know. It seems very unlikely that Marquis would be throwing at Upton to put two runners on with only a 1-run lead.
Things settled down until the eighth, when Danny Espinosa was hit by D-Backs reliever Esmerling Vasquez. Espinosa exchanged a few heated words with catcher Miguel Montero as he made his way to first.
Vasquez and manager Kirk Gibson were ejected from the game.
If you've been keeping count, that's only four hit batters. The fifth came immediately after Morse's second grand slam this season that put the Nats on top in extra innings.
Espinosa got drilled in the leg in the top of the 11th by D-Backs reliever Joe Paterson. Drake didn't make an ejection even though the pitch seemed intentional and warnings had already been given.
Drake heard it from the Nats dugout.
Emotions calmed down enough for the teams to finish the bottom half of the 11th, and the Nats got the win.
The drama with Upton in particular is puzzling due to recent rumors that the Nats are interested in acquiring Justin's younger brother, B.J.
The Nats are looking for a center fielder and the Tampa Bay star appears to be on their radar. It will be interesting to see how the series' events play into the Nats ability to acquire the speedy outfielder.
As for any unsettled business that may be lingering between the two teams, it will have to wait until August 22 when the D-Backs come to Nats Park for another four-game series.