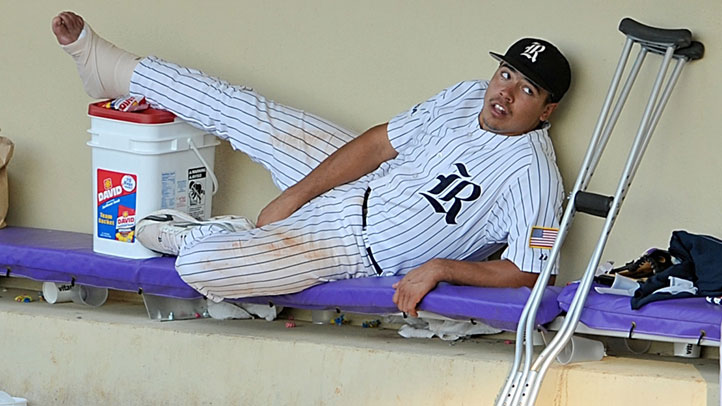 He doesn't come with the same hype as a Stephen Strasburg or Bryce Harper, but not many do.
After taking potential superstars with the No. 1 picks the past two years, the Nationals on Monday tabbed third baseman Anthony Rendon with the No. 6 overall pick of the 2011 MLB Draft.
But just because Rendon lasted until No. 6, that doesn't mean he's not a No. 1 talent. The 21-year-old standout at Rice University was actually ranked No. 1 on Baseball America's draft list and wields one of the most dangerous bats in all of college baseball.
He could have gone sooner, but after the Pirates took righty Gerrit Cole with the No. 1, Seattle passed on Rendon and decided to go with pitching in the No. 2 spot. The Mariners took former St. Albans star Danny Hultzen. That was followed up by two more pitching prospects. When the Royals tabbed high school phenom Bubba Starling at No. 5, Rendon fell into the Nats' lap at No. 6.
So why did Rendon drop? There have been questions about his health the past couple of years. He's had to endure two serious ankle injuries and a shoulder injury. That must have scared off some teams, but the Nats were apparently willing to take that chance.
Even with the injuries, Baseball America called Rendon "the best all-around hitter in the draft." Here's a sampling of the man crush BA has for the college junior:
The 6-foot, 190-pounder has tremendous strength in his hands and wrists, uncanny hand-eye coordination and exceptional strike-zone discipline. Teams have pitched around him all season, and he was the runaway NCAA Division I leader with 66 walks. His bat speed and ability to barrel balls give Rendon more usable power than any player in the draft, with scouts projecting the righthanded hitter to bat .300 with 25-30 homers a year in the major leagues. When healthy, Rendon is a gifted third baseman with above-average range and arm strength. He has drawn comparisons to Evan Longoria and Ryan Zimmerman, though he bears a closer physical resemblance to David Wright.
The Nats had two more picks on Day one of the draft, and they stuck with the college theme, taking University of Kentucky righty Alex Meyer at No. 23 and junior college outfielder Brian Goodwin at No. 34.
Meyer is huge (6-9, 220) and has a blazing fastball. Baseball America thought he could have been a top-10 draft pick, but dropped to the Nats at No. 23. Goodwin started his college career at UNC, but academic issues led to a transfer to a juco. Check out their video scouting reports below: