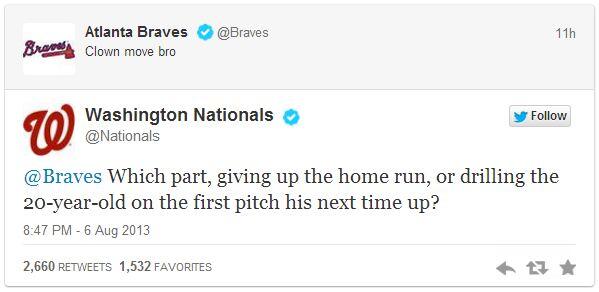 By this point, none of you probably care about the result of the Nationals game because their season is virtually over, but at least they are making their fall from grace somewhat entertaining.
Like Tuesday, for example, when the Nats and Braves almost came to blows over what the former thought was an intentional plunking of Bryce Harper.
See, what had happened was Harper gave Washington a 1-0 lead when he took Julio Teheran deep in the third inning.
Harper seemed to admire his handiwork a little too long for Teheran's liking -- in fact, at 23.66 seconds, it was actually the slowest home run trot of Harper's career, according to TaterTrotTracker.com -- so when Harper returned to the plate in the fifth, Teheran drilled him right in the leg. Both dugouts and bullpens cleared as Harper screamed obscenities and everybody else just sort of stood around.
To be honest, there were more fireworks online than on the field as the teams' Twitter accounts exchanged barbs
@Braves Which part, giving up the home run, or drilling the 20-year-old on the first pitch his next time up? — Washington Nationals (@Nationals) August 7, 2013
In the end, nobody was beat up or tossed. Just a lot of posturing.
When asked after the game if he was surprised Teheran hit him, Harper told reporters that he "hit that ball pretty far off him. So no, not really." He also admitted that he never intended to charge the mound.
"Nah, I wasn't going to go out there," he told reporters. "I mean, 14.5 games down, and I need to be in the lineup."
Hey, at least the Nationals are going down swinging? Or not.
---
Follow Adam on Twitter @AdamVingan and e-mail your story ideas to adamvingan (at) gmail.com.