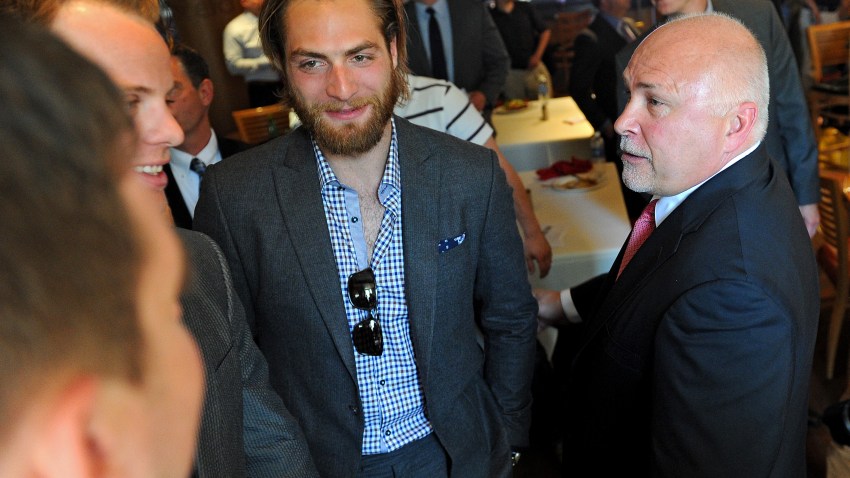 After a coaching career that spanned over 30 years and several levels of experience, Mitch Korn was prepared to retire.
His contract with the Nashville Predators was set to expire at the end of June and the franchise that had employed him to develop its goaltenders for 15 seasons was eager to re-sign him, but he felt ready to move on.
That was until Korn heard from recently hired Washington Capitals coach Barry Trotz, whom he coached alongside throughout the Predators' existence.
"Barry's like family," Korn said during a conference call Tuesday. "And when family asks you for help, you respond."
Korn was officially hired by the Capitals as their goaltending coach Tuesday, two weeks after it was initially reported that he would join Trotz's staff.
"We're like an old married couple," Korn said of his relationship with Trotz. "We finish each other's sentences. He knows what I think and what I believe, and I believe he believes the same things. It's very rare we've had an argument over a goalie, an argument over a goal. He gets it."
The 56-year-old brings with him a proven track record of molding unheralded goaltenders into NHL mainstays and a literal bag of tricks developed to hone every skill imaginable.
In Washington, Korn will be tasked with getting the most out of Braden Holtby, whose uneven 2013-14 season has been widely recounted. Korn has spoken to Holtby and watched some video, allowing him to formulate his initial thoughts on the 24-year-old.
"He's very focused," Korn said. "He's very cerebral. He's got a big body and he's very athletic. Those things are great in today's NHL game. I am Braden's fourth goalie coach in the time that he's been in Washington. I hope to bring some continuity, which hasn't necessarily been there.
"We hope we can make him an elite goalie in the National Hockey League without putting too much pressure on him by making that statement."
Korn will replace Olaf Kolzig, who expressed his desire not to continue in his role as a full-time goaltending coach in order to spend more time with his family. Korn and Kolzig, who have known each other for over 20 years, will discuss how Kolzig will be utilized going forward.
"We have a long relationship and we've been talking about what he wants to do and what he can do," Korn said. "He's got a unique family situation. Obviously he's traveled a ton, being a pro goalie for a long time. We're working to put the best package together for him to make it work, from scouting to coaching, a variety of different things to make it work.
"Olie will be a part of what we do. That decision has been made. Everybody's on board."
---
Follow Adam on Twitter @AdamVingan and e-mail your story ideas to adamvingan (at) gmail.com.