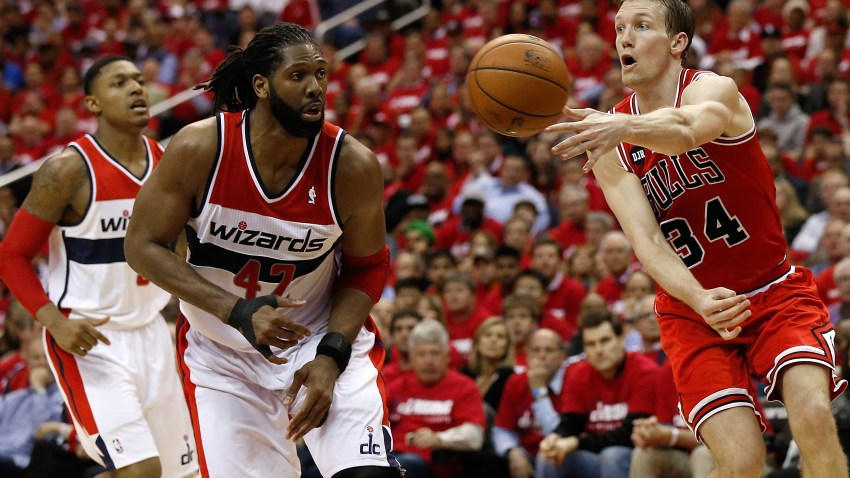 Of all the Chicago Bulls that the Washington Wizards would have keyed in on in Game 3, veteran reserve Mike Dunleavy was probably not on the top of the list.
For lack of a better term, Dunleavy went off Friday against the Wizards with 16 first-half points, one point shy of his playoff career high. At halftime, Wizards guard Bradley Beal, in charge of checking Dunleavy, made a bold proclamation on CSN.
"I guarantee he won't score in the second half." - Bradley Beal on Mike Dunleavy Jr. #WizardsTalk — Michael Wargo (@MichaelWargoCSN) April 26, 2014
To save you the suspense, Dunleavy scored in the second half. He scored a lot.
Dunleavy finished with 35 points on 12-of-19 shooting, including 8-of-10 beyond the arc. Those eight 3-pointers set a Bulls playoff franchise record.
Beal was powerless to stop Dunleavy. Even after clobbering him on a deep 3-point attempt in the third quarter, the shot still hit nothing but net before the Bulls forward completed the four-point play. (See for yourself at the 59-second mark of the video below.)
"He was in the zone, man," Beal told reporters. "I guess the hoop looked like an ocean to him."

Made aware of Beal's televised guarantee, Dunleavy retorted.
"We don't watch TV at halftime," he said.
---
Follow Adam on Twitter @AdamVingan and e-mail your story ideas to adamvingan (at) gmail.com.