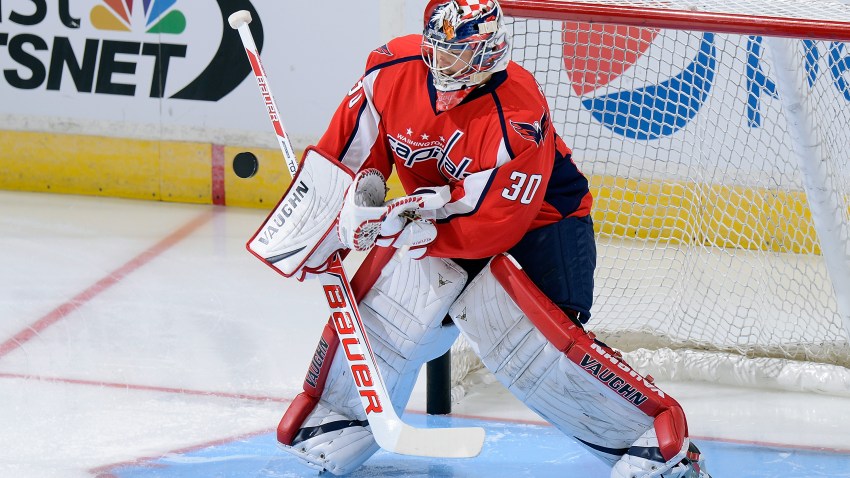 Washington Capitals goaltender Michal Neuvirth, currently on injured reserve with a lower-body injury, will join the American Hockey League's Hershey Bears on a conditioning loan this weekend.
According to Coach Adam Oates, Neuvirth is expected to start on Friday against the Wilkes-Barre/Scranton Penguins and potentially against the Binghamton Senators on Saturday at GIANT Center in Hershey.
"It's his decision, which is a great decision by him, I think," Oates said. "We gave him a chance that he's missed some time [and asked], 'You want to go down for some conditioning?' And he didn't bat an eye. He said, 'Yeah.'"
Oates also said that Neuvirth, who missed his last scheduled start on Nov. 29 against the Montreal Canadiens when he stepped on a puck as he took the ice for pre-game warmups and suffered an apparent right ankle injury, could possibly return to the Capitals lineup as soon as Sunday against the Philadelphia Flyers depending on how his conditioning stint goes.
-- Meanwhile, forward Brooks Laich skated before practice for the second straight day and third time since last playing Nov. 27 against the Ottawa Senators as a problematic right groin injury keeps him sidelined. Laich will not make the trip to Florida and there is still no timetable for his return.
"I didn't watch him because it's not a practice and I don't want to get my hopes up or think team until he skates with the team," Oates said of Laich's turn on the ice Thursday morning. "We went through this too many times last year and he said to me yesterday, 'I want to go to Florida and practice with you," and I said, 'Well if you can't skate tomorrow for five minutes, no.' And he went out there and I think we've all decided he's not going to go because he needs to be able to get some practices in.
"We just don't want to be teased and we don't want to put him in that position himself to maybe rush it to get there."
---
Follow Adam on Twitter @AdamVingan and e-mail your story ideas to adamvingan (at) gmail.com.