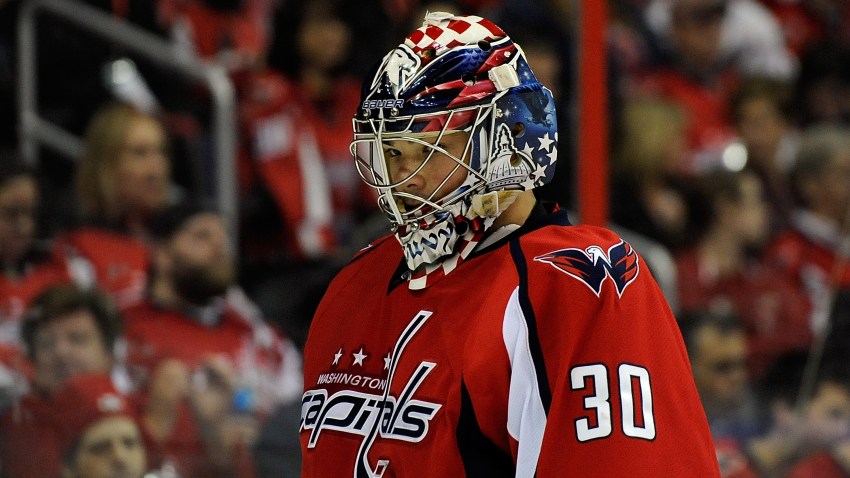 Earlier this week, Washington Capitals goaltender Michal Neuvirth was the center of attention when critical comments regarding teammates Braden Holtby and Alex Ovechkin were brought to the surface.
In a Czech interview (which was later translated into English by Russian Machine Never Breaks), Neuvirth referred to Holtby as his "weakest competition" yet for the starting goaltender position and said that Ovechkin "isn't what he used to be." The comments seemed uncharacteristic of Neuvirth, who is one of the more reserved members of the Caps.
Friday, Neuvirth had a chance to open up once again when he spoke with Caps365's Mike Vogel about the interview.
"There was some misunderstanding," Neuvirth said. "They changed my meaning a lot. I was talking about the boys in a good way and they translated to the way they wanted. I feel like they've got nothing to write about right now. I talked to Holtsy and Ovi, and Holtsy told me he didn't believe that for one second because he's known me for four or five years and he knows I'm not like that."
"I don't really follow the media at all," he continued. "I just looked at my phone two days ago and I had like five missed calls. I didn't know what's going on, so I start calling back and found out what's going on. I went the internet and tried to read that stuff. I couldn't believe that. I was in a big shock. I felt very bad, so I had to talk to Holtsy, I had to talk to Ovi and explain that what they saw wasn't what I said."
When asked if he thought there would be a backlash in the locker room, Neuvirth said that he wasn't worried about that, mentioning that teammates have already reached out to him about it.
"I felt very bad when I saw the interview in English because it didn't sound like me at all," he said. "Matt Hendricks called me yesterday and he's like, 'Look, I don't believe that stuff. We all know you for a while.' He knows I'm not like that. The boys, they believed that what [the translation said], that isn't what I meant. The boys, they believe."
---
Follow Adam on Twitter @AdamVingan and e-mail your story ideas to adamvingan (at) gmail.com.