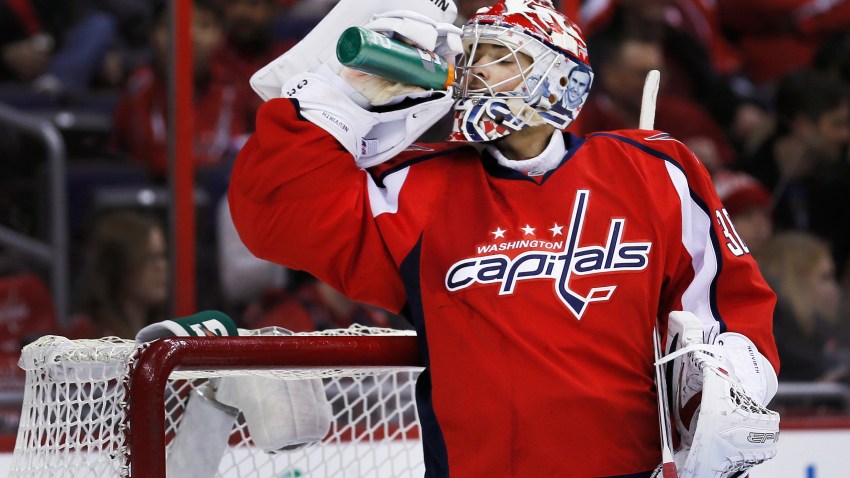 There are several signs that tell us that it's hockey season in Washington, D.C.
The brutal humidity of summer transitions into the crispness of fall (or in the case of a locked-out season, the crispness of fall transitions into the bitter cold of winter), the government and area schools are shut down prematurely over the slighest chance of freezing rain and the same few questions surrounding the Washington Capitals pop up.
Will Alex Ovechkin return to his MVP form? Is the window to winning a Stanley Cup closing? Who's going to be the No. 1 goaltender?
Unfortunately for Michal Neuvirth, he never seems to be the answer to the last question.
Not that that's his fault. He's been an unfortunate victim of circumstance. After starting a team-high 48 regular-season games, backstopping the Capitals to the second round of the Stanley Cup Playoffs in 2010-11 and outliving his direct competitor, Semyon Varlamov, it seemed all but certain that the then-23-year-old would lead Washington into 2011-12. That is, until 24 hours after Varlamov was traded to the Colorado Avalanche, when established veteran Tomas Vokoun fell into General Manager George McPhee's lap in an offer that the latter could simply not refuse.
Flash forward to April 2012. Vokoun was out with a groin injury -- one that ultimately ended his one-year Capitals career -- and Neuvirth stepped in ready to perform. During Washington's penultimate regular-season game, Neuvirth was in the midst of helping the Capitals clinch a playoff berth when Florida Panthers forward Marco Sturm fell awkwardly onto his left leg. Incapacitated by a hip flexor injury, Neuvirth could only watch as Braden Holtby took the NHL by storm, knocking off the defending Stanley Cup Champion Boston Bruins before ceding to the New York Rangers in the Eastern Conference Semifinals.
As a truncated training camp began earlier this month, there was Neuvirth once again, not the bride, but the bridesmaid. The question wasn't how many starts Neuvirth would get, but how many Holtby wouldn't. Neuvirth, reserved and unassuming in nature, isn't one to complain, instead quietly biding his time until he's called upon to perform.
"I know from my experience, it's a long season and you never know," Neuvirth said Monday. "I just want to work hard every day and, if I get the chance, I want to help my team to get a 'W.' It's tough to go with one guy the whole season, there's always some up and downs but I'm trying to play the same way all season."
Neuvirth, however, has confided in goaltending coach Dave Prior, who handpicked him with the 34th overall pick in the 2006 NHL Draft and has served as his mentor ever since.
"I don't think he has a chip on his shoulder," Prior said Monday. "I think he's probably of the opinion, 'I wonder why they doubt me' more than anything because he doesn't doubt himself. i get a little defensive on his behalf when people are sort of surprised [by Neuvirth]. His success in the playoffs at the junior and minor league level [shows] he's got a head on his shoulders that handles pressure well. I'm not surprised how he's played here. I think for him it's just nothing's changed in his mind about himself. It's more, 'They don't want to give me this opportunity.'"
Last week, after Holtby allowed 10 goals in Washington's first two games, head coach Adam Oates gave Neuvirth that opportunity and he has seized it.
Despite allowing four goals and losing his first start to the Montreal Canadiens Thursday, Oates went back to Neuvirth Friday against the New Jersey Devils and put in an "excellent" performance as Prior put it. Neuvirth made several key saves throughout the game, which enabled Washington to erase a 2-0 deficit before falling 3-2 in overtime. Sunday, Neuvirth did not have to be as superb as he was Friday, but still made 22 saves in the Capitals' 3-2 victory over the Buffalo Sabres. Tuesday, Neuvirth will make his fourth straight start when Washington faces the Ottawa Senators.
"He's given us confidence in front of him," forward Troy Brouwer said. "He's played well here for the past couple of years. He's battling hard and fighting hard for that solidified No. 1."
Neuvirth has remained a constant in Washington. Yet, with his and Holtby's respective contracts set to expire at the end of the season, he once again finds himself in another precarious position. Goaltending, however, always is uncertain. It is a position that relies just as much on luck and chance as it does skill. Perhaps Neuvirth hasn't had the best luck, but he has taken advantage of his chances. He may have been overlooked, but he and his confidence have outlasted.
"I always believe in myself," Neuvirth said. "I know I can handle the pressure. I won back-to-back Calder Cups [with AHL Hershey] with a lot of guys on this team. We know each other pretty well."
---
Follow Adam on Twitter @AdamVingan and e-mail your story ideas to adamvingan (at) gmail.com.