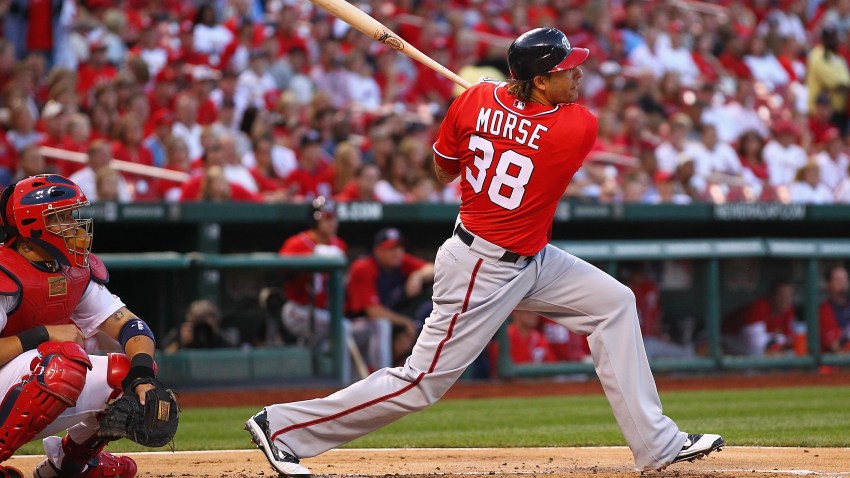 Saturday evening in St. Louis, Michael Morse joined Josh Willingham as the only two Nationals to ever hit two grand slams in one game.*
*Okay, not quite, but Morse did become the first player in Major League history to hit an imaginary grand slam in a game, which, if you ask me, is more impressive.
Bear with me as I attempt to explain the following video:
So Morse hit a ball that looked to clear the wall with the bases loaded, right? Well, the umpires didn't see it that way, thinking that it had bounced off the wall and stayed in the park instead. Then, a lot of things happened, but it ended up with one run coming in to score and Morse being thrown out at first. Yeah, I'm confused, too.
Upon further review, the umpires ruled that Morse's slam was indeed grand, so Ryan Zimmerman (who was on second when Morse stepped to the plate), Adam LaRoche (who was on first) and Morse headed towards home. Yet, to make sure that each runner touched each base, the umpires sent all four runners -- Bryce Harper, who was at third and scored easily on Morse's hit, had to be summoned from the dugout -- back to their original positions.
Morse, who had already rounded second, then rewound himself and ran the bases backwards until he returned to home plate, which is where he connected with his imaginary grand slam.
It was as if the game had been taken from Busch Stadium to the sandlot. Morse hitting the big grand slam, Bob Carpenter making the excited call like the fat kid that was never picked to play, but hung around anyways because he thought it made him cool (sorry, repressed memories).
"It was pretty cool," Morse, who swung the fake bat at the request of his teammates, said after the game. "It was pretty weird. I thought they were waiting for me to swing, and then everybody started running. It was such a crazy moment. Might as well have some fun with it."
Meanwhile, back in reality, Morse's grand slam did not hold up as the Nationals blew that 4-0 lead, but ultimately defeated the Cardinals 6-4 in 10 innings to bring their magic number to clinch the division down to just one. That, however, is where it stayed Sunday after Washington's 10-4 loss and the Atlanta Braves' 6-2 win over the New York Mets.
Speaking of "The Sandlot," it looks like we have a sequel ("The Sandlot 2" doesn't count because it was just awful). We'll call it "Beast Mode."
---
Follow Adam on Twitter @AdamVingan and e-mail your story ideas to adamvingan (at) gmail.com.