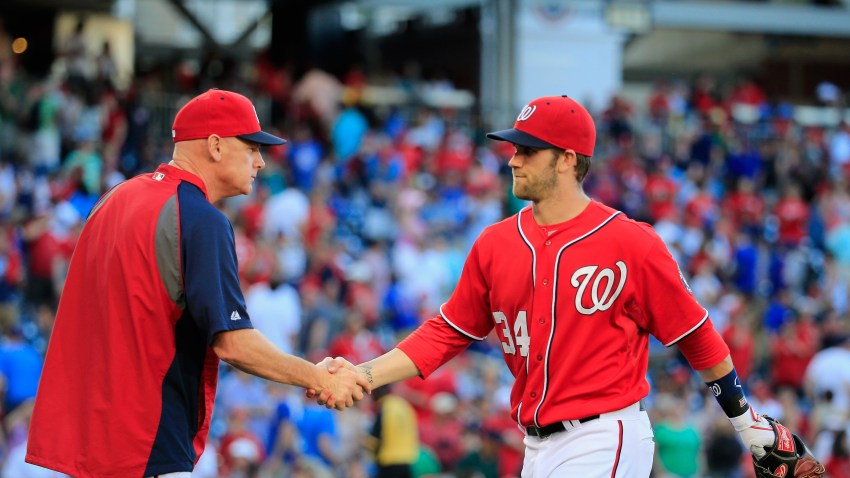 It started innocently enough, with The Junkies on 106.7 The Fan asking Nationals manager Matt Williams during his weekly appearance Wednesday if it would be "a wacky idea" to send the struggling Bryce Harper to the minors.
"I don't know," Williams answered. "I don't think it's stupid. Generally, if you have young players, that's what you do. But this guy is a special young player. We all know that. It's different. I think he works hard every day. He's the first one in the ballpark, generally, to get his day going. He's grinding. We're doing everything we can to get a good feel going in there and help him with his confidence and all that. It's not easy, by any stretch. But I don't know if it's a good idea at this point to do that, because it's completely different pitching.
"We all know the big difference between Triple A pitching and big league pitching. It's probably more of an option to have him feel good here, get it back. We've seen him, certainly, good and hitting well. For me, it's not necessarily that he can't hit, of course. It is that he's in some kind of a slump. What we have to do is try to work our way through it and get him out of it as quickly as possible. He grinds every day, you guys. He's doing everything we can to get out of it, and so are we."
Entering the Nationals' game against the Mets on Wednesday, Harper was hitting .214 and slugging .306 since returning from a thumb injury on June 30. (He was hitting .289 and slugging .422 before his stint on the disabled list, according to ESPN.)
As the 24-hour news cycle is wont to do, Williams' response became one of the hottest topics in the sports world Wednesday. The manager sensed this, so when asked about Harper again prior to Wednesday's game, Williams was less than pleased.
Case closed, it seems. It was a rare outburst from the normally low-key Williams. Here is the transcript of the video above:
"I would caution everybody in this room: The minute you think you can read my freaking mind, you're sorely mistaken. It [ticks] me off to even think about, that somebody would take a comment I made on the radio and infer I am thinking one way or another. I've had it. Don't do it anymore.

"Bryce Harper is one of the guys on our team, he's a very important part of our team. Just like everybody else is. Do we understand each other?

"It's not fair to the kid, it's not fair to the rest of the guys in that clubhouse to even think about sending Bryce Harper to the minor leagues, or to cause a stir. It's unacceptable. It won't happen."
Harper went 1-for-3 on Wednesday in Washington's 7-1 victory.
---
Follow Adam on Twitter @AdamVingan and e-mail your story ideas to adamvingan (at) gmail.com.