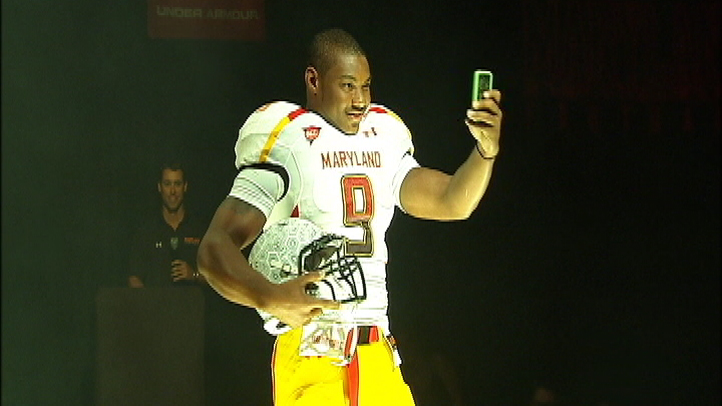 After weeks of building anticipation, the Maryland football team announced on Monday the designs for this year's uniforms. The resulting buzz indicates that the uniforms are not as exciting as the school had hoped they'd be.

Maryland presented the new gear to the public in a fashion show for media and boosters, which was also streamed online for fans.
There are apparently 32 different uniform combinations (16 can be seen here), which to the casual observer might seem a little extreme. But with 12 regular season games on the schedule, the team certainly can't be seen in the same outfit twice. Plus there are day games and night games. Add in some cold weather options and keep in mind the "no white after Labor Day rule," and 32 options is actually quite reasonable.

As expected, the uniforms do not include names on the backs of the jerseys, nor a logo on the helmet, and are made by Under Armour which has obvious Maryland ties. They have been met with mixed reviews, being called "hit or miss", "interesting" and "dizzying." At least one site hates the concept so much they refuse to comment (while actually commenting).

Coach Edsall indicated that he'd like to see fans vote on their top five favorites to help them pick an opening week look for their game against Miami. No word on whether fans will be able to vote for last year's uniforms as an option.

The team strutted the runway to DJ Khaled's "All I Do Is Win", and while we're a fan of that song and the sentiment is quite appropriate, they probably should have used the clean version for public consumption. Although Maryland boosters drinking wine and watching college football players walk the runway in full pads while listening to "…my hands go up and down like strippers booties go…" is like really great performance art.

Besides, if it's not art then how do you explain these helmets?
Questions, comments or tips? Email Sarah at sarahskogod@gmail.com. You can also follow her on Twitter (@sarahschorno).