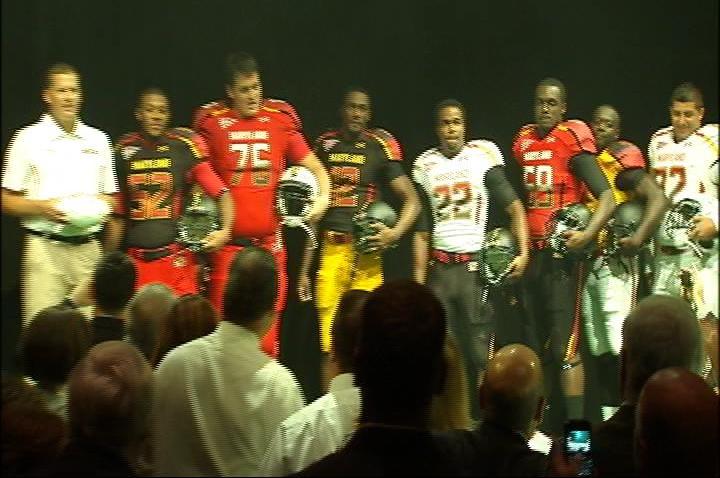 Things are going to look a little different at Byrd Stadium when the Terps take the field for their season opener. A new coach will be leading the way and along with him has come a new attitude in the locker room. And now, they'll have new duds to sport.
The University of Maryland Athletics Department unveiled new football uniforms at the Clarice Smith Performing Arts Center in College Park last night. The presentation was complete with a 30-minute fashion show by players and pep talks by head coach Randy Edsall and Under Armour CEO Kevin Plank, whose Baltimore-based apparel company designed and created the new digs.
And boy did they create a variety of choices for game day. There are four different colors for the jerseys and pants: red, black, gold and white. Which means there are 16 different uniform combinations in all. On top of that, there are two different helmets. One has a black matte finish; the other is white with a turtle shell pattern.
Also notable is the absence of players' names on the jerseys, which was Edsall's idea, and the lack of a logo on the helmet.
From scanning the Internet and blogs, so far the reaction is mixed. Of course, everyone inside the system seems to be thrilled.
"I know this: The kids are very, very proud of these uniforms," Edsall told UMTerps.com. "I told the captains, 'You're the guys that are going to have to decide what we're wearing because there are too many options for me.'"
But when it comes to the fans, there are messages of high praise, and stern criticism that the program lost all tradition by picking radically modern uniforms.
What do you think about the new unis? Let us know in the comments below.