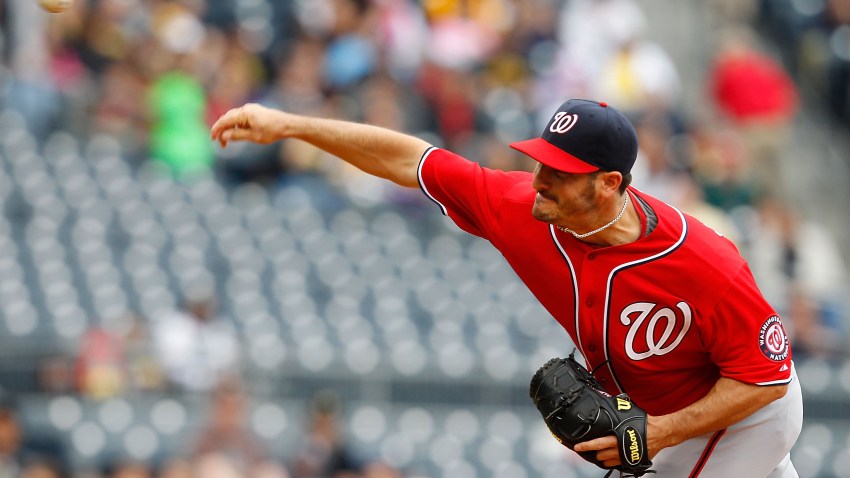 When you hear about all of the great pitching in the NL East, some big names come to mind: Josh Johnson, Roy Halladay, Tim Hudson, Jason Marquis...
Jason Marquis?
Yes, you heard us right. Just take a look at the numbers. Marquis ranks among the top starters in the NL East and isn't showing signs of slowing down.
And the veteran starter hit a milestone, too, by notching on Tuesday his 100th career victory, defeating Atlanta, which drafted him in the first round in 1996.
"It was exciting, obviously, that I got 100 here," Marquis told reporters in Atlanta after the game. "It's definitely a special part of my career."
After a disappointing and injury-plagued 2010 season, Marquis is reminding us that he still has the stuff that made him a first-round pick and a top-10 prospect early in his career.
The Braves are normally a tough opponent for Marquis, who went 7 1/3 innings, allowing three runs on seven hits. As a team, the Braves were hitting over .300 against him heading into the contest.
The struggling Nats offense hit the ball hard on Tuesday. Marquis was backed by three-run homers by Jayson Werth and Laynce Nix.
The Braves, normally stellar on defense, had two errors that proved to be costly. Only three of the runs allowed by Hudson were earned.
Marquis currently leads Nats starters with a 4-1 record and his respectable 3.66 ERA is second only to Tom Gorzelanny's 2.87 mark.
His hot start in 2011also includes two wins in the division and his seventh career complete game, against the Giants. He limited the defending World Series champs to no runs on five hits and struck out seven.
Marquis became one of 31 active pitchers with 100 or more wins and, at 32, is younger than 22 of them.
Nats fans hope he can continue to hang with the big boys in the NL East and rack up more of those wins .