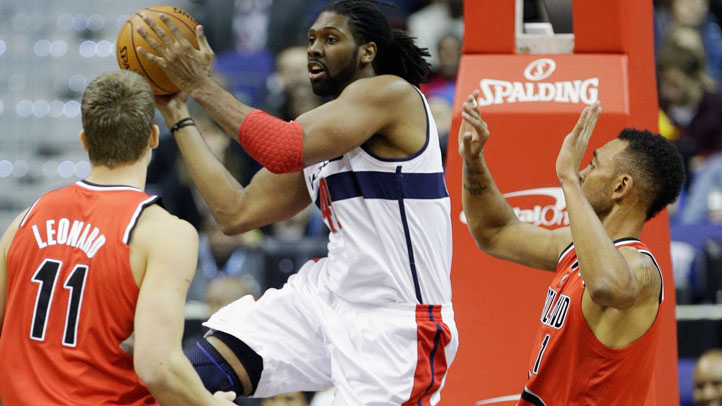 Wizards fans, we hope you have Powerball tickets.
Playing its 13th game of the season, the team won its first game, becoming the last team in the league to record a victory this season.
But the visiting Portland Trail Blazers fought hard to rally from behind and keep the Wizards at an oh-fer. The rally fell short, however, and the Wizards won 84-82.
Washington survived a scoreless 6:47 in the fourth when Jordan Crawford, who scored 19 in the game, hit on a 3-pointer with 2:06 to play, and they finally took the 84-82 lead on Emeka Okafor's two free throws with 39.1 seconds to play.
Trail Blazer Damian Lillard was called for traveling with 28 seconds to play. After Nene was called for an offensive foul, J.J. Hickson missed a jumper with 2.8 seconds to play.
The Wizards turned the ball over on an inbounds play with 0.2 seconds to play, but held on to end the skid.

Nine teams have started a season 0-13, and the Wizards were tired of the ridicule they'd been subjected to -- locally and nationally -- as they crept toward the Nets' NBA record-worst start of 0-18.

On TNT, Charles Barkley compared the Wizards with Harlem Globetrotters foils the Washington Generals, and a local newspaper had photos of fans wearing paper bags over their heads at Monday's 26-point loss to San Antonio.

Trevor Ariza had 14 and Kevin Seraphin added 10 points and 10 rebounds for Washington, which ended the third quarter on a 23-7 run to take a 68-59 lead, then padded its lead to 15 barely three minutes into the fourth.

The 79-64 lead seemed safe -- even for the Wizards -- but the Trail Blazers ran off 15 straight points to tie the score at 79-all with 3:18 to play.

Lillard and Nicolas Batum led Portland, losers of three straight, with 20. LaMarcus Aldridge had 17. Hickson had 15 points and 19 rebounds.

The Blazers hit six of their first seven shots and took a 15-4 lead four minutes into the game.

Nene entered the game with 1:43 to play and helped spur the Wizards to a 37-31 lead with six minutes to play in the first half. At halftime, the teams were tied at 43-all.

After missing the first nine games of the season with a left foot injury, Nene played two games before missing Monday night's loss.

Because the Wizards were 0-12, opponents feared them -- in an unusual way.

"They know their record,'' Portland coach Terry Stotts said. "None of them want to be a part of the team that gives the Wizards their first win.''

Notes: Washington F Trevor Booker missed his fourth straight game with a right knee injury. ... This was the 100th all-time meeting between the teams. Portland leads 52-48.
Copyright AP - Associated Press