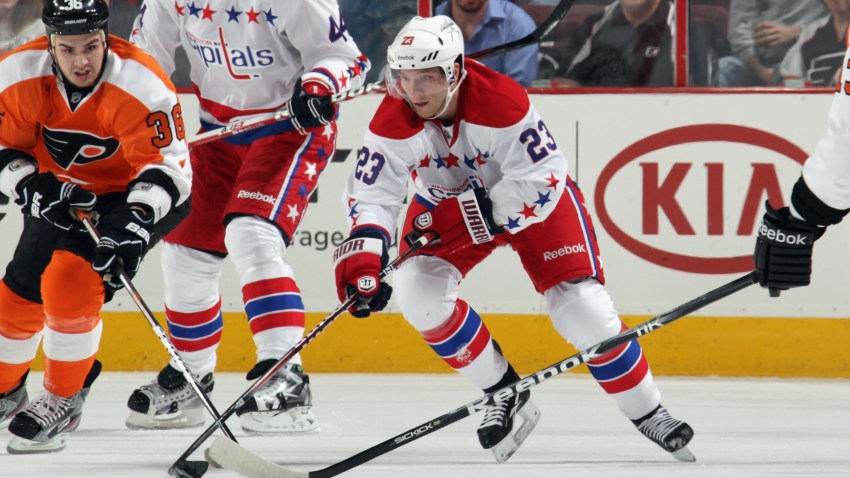 As the Washington Capitals prepare for their Eastern Conference quarterfinal series against the Boston Bruins, perhaps the player most familiar with the Bruins and Boston in general is the same one with the least amount of overall experience.
Waltham, Ma., native Keith Aucoin will likely make his NHL postseason debut Thursday against his hometown Bruins, which is an opportunity that has him really excited.
"it's awesome," Aucoin said after Tuesday's practice in a Boston accent so think that even Mark Wahlberg might have trouble understanding him. "Obviously, growing up being a Bruins fan and [having a chance] to beat them to [win the Stanley Cup], it's gonna be a lot of fun and I'm looking forward to getting it going."
Aucoin literally knows the Bruins organization inside and out as both a fan and player. He was a member of the Bruins' AHL affiliate in Providence, R.I., in 2002-03. In fact, Aucoin was a teammate of current Bruins goaltender Tim Thomas, who he still sees occasionally.
"He's still the same Tim Thomas," Aucoin said. "He's a good guy, a family guy. Obviously, I'm really happy for all of the success that he's had."
Coincidentally, it was Washington that prevented Aucoin from making the Stanley Cup playoffs sooner. He was on the Carolina Hurricanes team that the Caps surpassed on the final day of the 2007-08 season. Now that he has a chance to play for the Stanley Cup, his homecoming is even sweeter. Though it might not necessarily be cost-effective.
"It's exciting," Aucoin said. "A lot of family and friends, getting a lot of calls and text messages. I told everybody to get their own tickets. They're too expensive."
---
Adam Vingan is co-founder and editor of Kings Of Leonsis, a Caps-centric blog, and is the Capitals Editor for SB Nation. Follow him on Twitter @Adam_KOL and e-mail your story ideas to adamvingan (at) gmail.com.