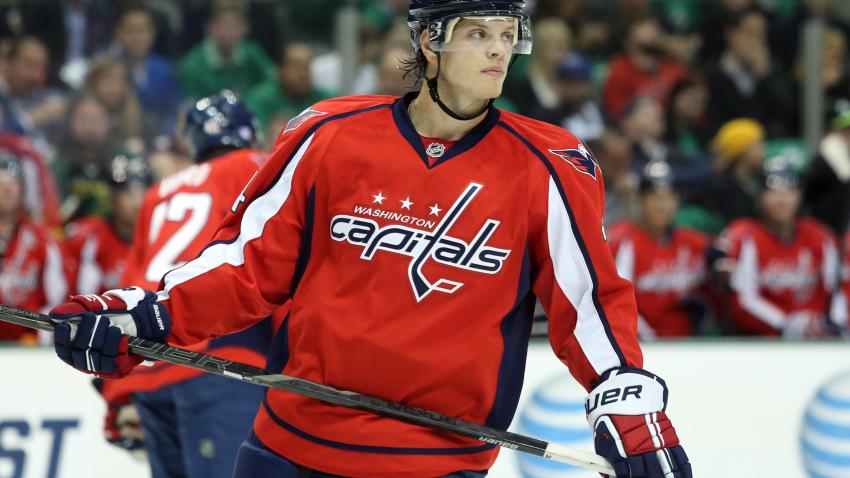 Confidence, not unlike the endless back-and-forth nature of hockey, ebbs and flows seamlessly. For a player who thrives on self-assurance like Washington Capitals defenseman John Carlson, capturing and harnessing that often-fleeting confidence is integral to his success.
Over the Capitals' past eight games, it is evident that Carlson has reaped the benefits of that confidence, scoring all five of his goals -- accounting for all but two of the defensive corps' goals this season -- and further establishing himself as Washington's most important and relied-upon defenseman.
"He's got his confidence back," said defenseman Karl Alzner, Carlson's long-time defensive partner. "He likes to see the results, the points, the goals. And when you don't see it, you don't necessarily feel like you're doing enough and I think that's what he was feeling. You can tell he's feeling good about himself and you see how good he plays when he feels that way."
The 23-year-old has received more responsibility over the past two games; with Mike Green out with a lower-body contusion, Carlson set a career-high with 32:26 of ice time Friday against the Detroit Red Wings and took Green's place on the power play, spending 11:18 of Washington's 12:46 of power-play time on the ice Friday and Sunday.
"I think one thing that happens to guys, when Mike goes out, you instantly know you get more responsibility and it's something he can handle," Coach Adam Oates said. "He's proven he can handle it and he's handling it again."
Coincidentally, USA Hockey was well represented Sunday at Verizon Center. Pittsburgh Penguins general manager Ray Shero and scout Don Waddell -- members of USA Hockey's selection committee -- as well as USA assistant coach Peter Laviolette were in attendance to catch a glimpse of Olympic hopefuls, Carlson being one of four playing (the Blues' David Backes, T.J. Oshie and Kevin Shattenkirk were the others).
Carlson and Alzner were tasked with shadowing the Blues' first line, which featured both Backes and Oshie along with NHL goal-scoring leader Alex Steen, and held them to a combined six shots on goal and zero points.
Obviously biased, if it were up to Oates, Carlson would be a shoo-in for Sochi.
"If you watch, well, all year, but really the last 10 games, I don't think it'd be any question," Oates in regards to Carlson's Olympic credentials. "He played 32-and-a-half the other night. Him and Alzy have been shutdown guys. They both play fantastic hockey, every situation, and now with Greenie out, he's doing PP. He's got five goals now. He's playing great hockey."
Meanwhile, Carlson's sole focus is on simultaneously building his burgeoning confidence and helping the Capitals.
"I try not to [think about the Olympics]," Carlson said. "Obviously everyone thinks about it. I'd be lying if I said I didn't, but like [Sunday], we had a big test. I'm worried about my team and that's my goal right now. If I get to that next goal, then that's great, but I'm not going to change where my head's at right now for something that I don't know what it's going to be."

---
Follow Adam on Twitter @AdamVingan and e-mail your story ideas to adamvingan (at) gmail.com.