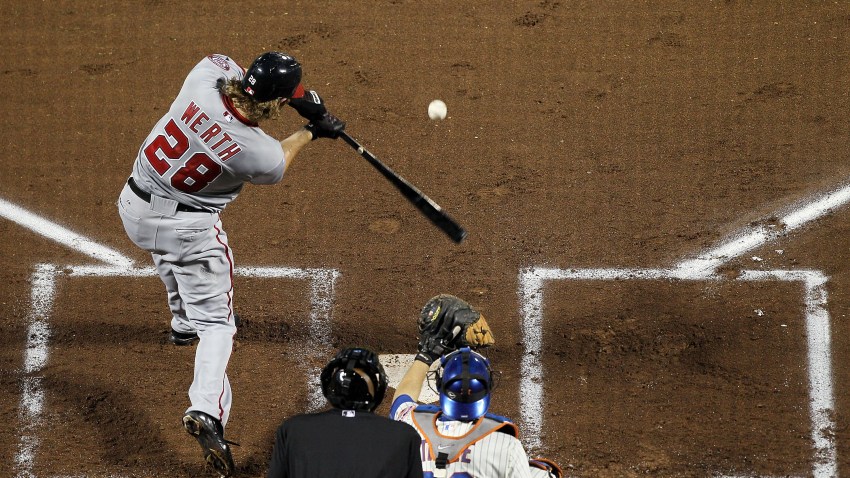 During Sunday's 12-0 win over the New York Mets, the Washington Nationals hit three home runs in the first inning. Ian Desmond and Roger Bernadina connected on solo shots, but it was Jayson Werth's two-run bomb that really hurt the Mets.
And possibly his car.
Werth's home run cleared the stands at Space Coast Stadium and may have struck his truck, according to a member of the Nationals ground crew.
"But that is usually where I park it, over in that direction," Werth said to reporters, adding that he did not park his car Sunday. "It could be just a rumor, folklore. ... I have to go out there and check it out. If it's dented or smashed or cracked or shattered, I kind of foresee it staying that way for a while. I think they are just messing with me, but who knows?"
Manager Davey Johnson called Werth's two-run shot was "the hardest ball I've seen him hit since he's been here," which bodes well for the Nationals as Werth tries to bounce back from a supbar first season with the team.
This is the type of stuff that urban legends are made of. Or more appropriately, Suburban legends.
---
Adam Vingan is co-founder and editor of Kings Of Leonsis, a Caps-centric blog, and is the Capitals Editor for SB Nation. Follow him on Twitter @Adam_KOL and e-mail your story ideas to adamvingan (at) gmail.com.