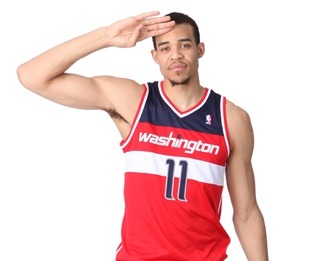 JaVale McGee may have lost the slam dunk title to Blake Griffin this year, but he now has bragging rights of a different sort.

He holds a world record.

JaVale tweeted about his accomplishment earlier in the week, but we weren't quick to take the word of a man with an alter-ego named Pierre.

But we now have confirmation in the form of an e-mail from the Guinness people.

"The most basketballs dunked in a single jump was three by JaVale McGee (USA) during the Sprite Slam Dunk Contest at the 2011 NBA All-Star Game at the Staples Center in Los Angeles, California, USA, on 19 February 2011. McGee jumped with two basketballs in his possession before dunking each and receiving a third basketball to dunk via alley-oop from teammate John Wall (USA)."

Score another assist for John Wall.
JaVale has since tweeted a pic of his certificate, which we suppose makes it official. At least it looks official, what with the foil stamp and all.
Congratulations, JaVale!
Update: We reached out to the Guinness people to find out who solicited the record and the response was "JaVale did directly, or his manager did". Maybe JaVale was a little more bitter about losing the contest than we thought. It's like his triple-double all over again.
In case you missed it, here's the record-setting jam.

Questions, comments or tips? Email Sarah at sarahskogod@gmail.com. You can also follow her on Twitter (@sarahschorno).