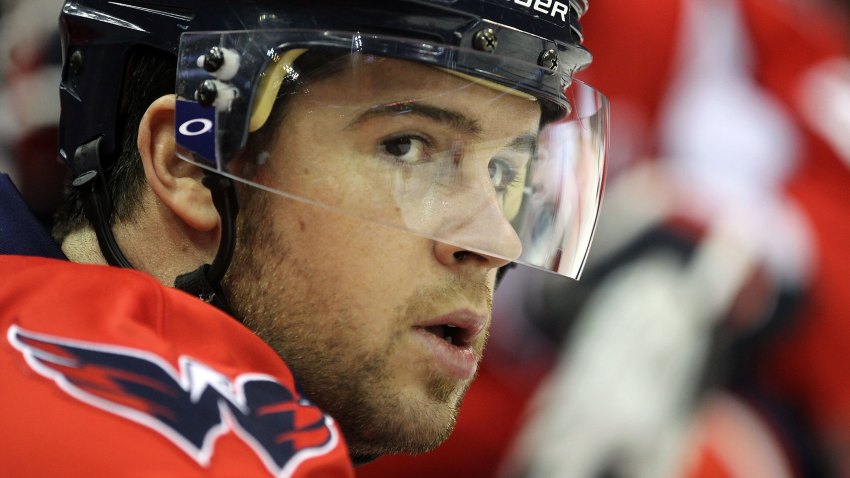 Washington Capitals defenseman Mike Green might have some explaining to do.
The NHL annnounced Friday (though TSN's Bob McKenzie announced it late Thursday) that Green will meet with the Department of Player Safety at 1 p.m. to discuss his hit on Tampa Bay Lightning forward Brett Connolly during the Caps' 3-2 overtime win Thursday (video via CSN Washington).
Here's video of the hit:
Now it is time to play the role of Department of Player Safety head Brendan Shanahan. Put on your best business casual (unbutton that top button for added emphasis), stand in front of a futuristic game show-like set and place your hands in front of you in a steeple formation for added confidence.
Ready?
"Thursday night in Washington, an incident occured during the game between the Capitals and the Tampa Bay Lightning. As the video shows..."
Green made contact with Connolly's head with his upper arm and shoulder. Connolly could not make any attempt to brace himself as he was already pinned to the boards by defenseman Dmitry Orlov. That is a violation of Rule 48: Illegal Check to the Head, which states "a hit resulting in contact with an opponent's head where the head is targeted and the principal point of contact is not permitted."
No penatly was called on the play and Connolly did return to the game in the third period, but only for 3:44.
Green has a prior history, having been suspended for three games in January 2010 for elbowing former Florida Panthers forward Michael Frolik in the head.
When considering all of these factors, it seems that Green's second career suspension is a formality. While the Caps should be used to playing without Green by now considering his recent injury history, it would definitely be a blow to lose him for any length of time. It is not like we should not have seen this coming, though; Green admitted Wednesday that the mental aspect of his game has "taken a step back." Just sayin'.
It looks like the "Shanahammer" will be dropped down hard on Green, but speaking of hammers, at least Roman Hamrlik -- who has not played since February 20 as a healthy scratch -- will be able to return to the lineup, right?
---
Adam Vingan is co-founder and editor of Kings Of Leonsis, a Caps-centric blog, and is the Capitals Editor for SB Nation. Follow him on Twitter @Adam_KOL and e-mail your story ideas to adamvingan (at) gmail.com.