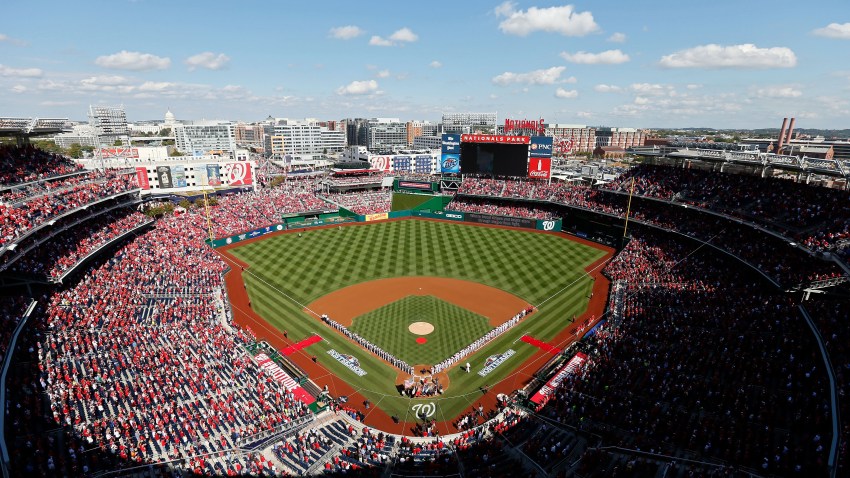 Now that the Washington Nationals are on vacation, players find themselves with more free time on their hands.
Shortstop Ian Desmond has taken to Twitter in an effort to quell his boredom and in that boredom Monday, he posed an always-interesting question:
Asking honestly. Do you think DC has it in them to sell out an entire season. Maybe not next year but ever? — Ian Desmond (@IanDesmond20) October 16, 2012
The age-old question of whether or not Washington, D.C. can evolve into one of the best sports towns in the country is one that has been run into the ground and dragged through the mud around here.
But it's always a worthy debate, so let's break it down statement by statement.
First, can D.C. sell out an entire season at Nationals Park? Probably not. We're not even discussing the concept of winning (not yet). We're simply talking logistics. Nationals Park has a capacity of around 41,500, which, when one counts 81 regular-season home games, would require about 3.36 million fans to attend games throughout the season.
To put that into perspective, the Nationals saw 2.37 million fans enter Nationals Park this season, the highest total since the inaugural 2005 season. Simply put, selling out a baseball stadium is much more difficult than selling out an indoor arena, which usually holds somewhere between 18,000 and 20,000. You also have to factor in start times; no other sport plays games in the middle of the afternoon on a work day. It will be incredibly difficult for the Nationals to sell out every game, even if they become perennial contenders.
Speaking of...
Win and they come is what I'm getting. Lose and then what? — Ian Desmond (@IanDesmond20) October 16, 2012
This is the touchy part. Win and they come, lose and they don't.
With all due respect to those diehard Washington sports fans, D.C. is an event-based town. People like to be seen at the hottest new place, whether it be a show at the Kennedy Center, a food truck or a sporting event. The hottest accessory this summer wasn't a handbag; it was a Curly W hat.
This weekend, I compared the 2012 Nationals to the 2007-08 Capitals. Fewer than 12,000 fans witnessed Glen Hanlon's last game as head coach on Nov. 21, 2007, as the Caps fell to 6-14-1. When the Caps began to heat up in March as they made their push towards the postseason, they were drawing over 17,500 fans. By the final game of the season against the Florida Panthers on April 5, 2008, there was a sellout crowd to witness the Caps clinch the Southeast Division.
The Caps currently have a sellout streak of 153 games, and even though they don't have a Stanley Cup to show for it, they have given fans a reason to come back year after year. There is also the transient aspect; most people who live here are not from here and they tend to hold onto their prior allegiances.
Washington is a city filled with things to do and people only have so much cash. Those same people are not going to shell out a lot of money to watch a losing product (except for the Redskins, who could stink for two decades straight -- which they have -- and still be the talk of the town, which they are).
So just win, Ian. They'll come.
I think once they develop the area around the park with restaurants, etc. I think it will be hard for people to not be interested in the gms — Ian Desmond (@IanDesmond20) October 16, 2012
That fact is indisputable. The area around Nationals Park is a ghost town. There is not much in Navy Yard outside of the ballpark to coerce fans to head there several hours before first pitch.
Meanwhile, in Chinatown, the development of the (formerly MCI) Verizon Center transformed Gallery Place and Chinatown into a vibrant neighborhood filled with shops, bars and restaurants. Fans make an entire afternoon and evening of spending time downtown before and after hockey games.
If Navy Yard can do the same, then more fans will come for the experience and the games.
Getting kids interested in the sport is key. Starting with little league things like that. Spread the Glove will help that one day. Trust me — Ian Desmond (@IanDesmond20) October 16, 2012
I agree with this as well. Again, using the Caps as an example (since they have recently gone through the same transformation that the Nats are hoping to replicate), participation in youth hockey spiked as the Caps became successful. Kids all over the area wanted to be Alex Ovechkin. If the Nationals continue to win, the next wave of kids will want to throw on a glove and slather themselves in eye black like Bryce Harper.
All of this boils down to one concise point: Winning this city over is easy. It's winning that's the difficult part.
---
Follow Adam on Twitter @AdamVingan and e-mail your story ideas to adamvingan (at) gmail.com.