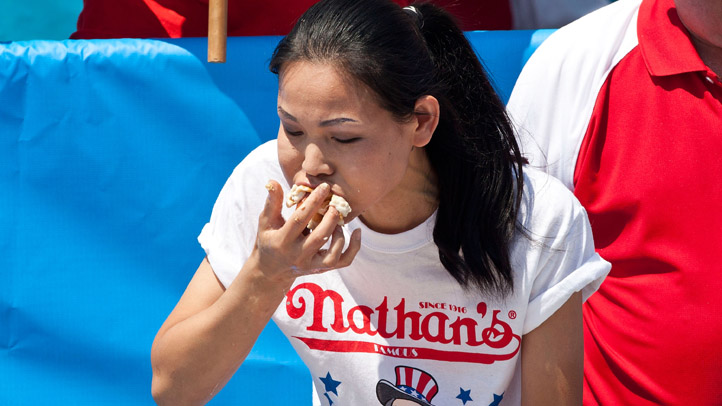 The Black Widow of competitive eating won again Wednesday.

Sonya Thomas, of Alexandria, Va., defended her Nathan's Famous Fourth of July International Hot Dog Eating Contest title on Coney Island, and really, her only competition was herself. She set a goal to not only beat her record of 41 dogs and buns in 10 minutes but to also eat her age -- 45 -- and she reached that.

Thomas said she started to feel sick while eating but kept pushing so she could win the title.

"There is a limit so I have to fight," she said.

Thomas said next year she's going to beat her record again and eat 46.

"Because I'm going to be 46 next year," she said.

Juliet Lee, of Germantown, Md., finished second -- 33 dogs and buns -- for the second year in a row. Last year was the first year Nathan's held a separate contest for women.

Thomas collects $10,000 and a pink champion's belt. Lee won $5,000.

In the men's competition, Joey Chestnut won for the sixth straight year, scarfing down 68 hot dogs to win by 16.
Copyright AP - Associated Press