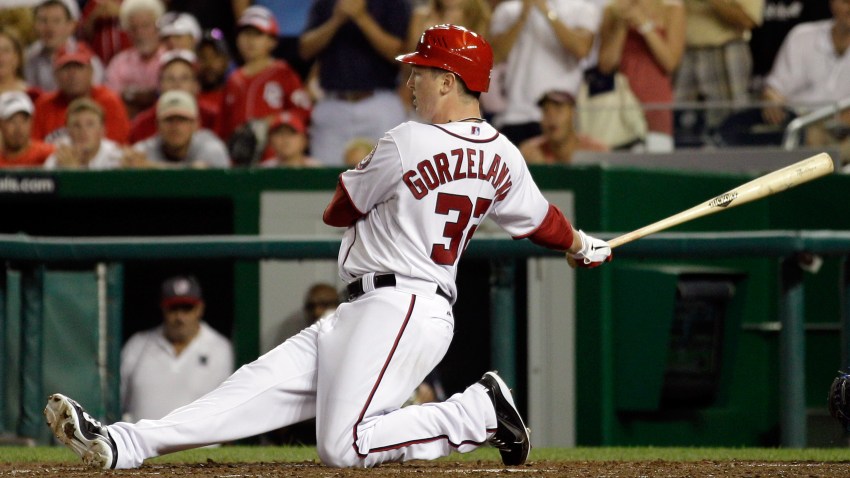 It's not often we single out a pitcher's at-bat, but Tom Gorzelanny's epic battle with Chris Carpenter Wednesday night at Nationals Park was well worth it.
Gorzelanny, who had picked up his first hit of the season off Randy Wells in his previous plate appearance, stepped into the batters box in the bottom of the fifth with a 4-2 lead and the bases loaded with two outs.
Gorzelanny was overpowered the entire at-bat by the Cubs' pitcher, but somehow managed to hang in there for nine pitches.
His first two swings were awful, as he swung and missed at two four-seam fastballs that clocked 96 and 97 mph. After the second he cracked a smile, somehow knowing that he was way out of his league in a pressure situation and runners in scoring position.
But then, something clicked, and Gorzelanny got into a groove. He fouled off the next pitch, a 98 mph heater. He then took an outside pitch for a ball.
And then, amazingly, Gorzelanny got at least a piece of the next four pitches, all 98 or 99 mph fastballs. At this point, the crowd had changed its mood from laughing at Gorzelanny to cheering for him. Could he possibly get enough wood on a pitch to drive home a couple of runs?
Well, the ninth pitch of the at-bat answered the question. Carpenter took a little bit off of the pitch, and his 91 mph fastball fooled Gorzelanny so much that by the end of his swing he literally fell over.
But hey, he tried.
While the at-bat may have tired out Carpenter, it seemed to take a bit of the wind out of Gorzelanny's sails, as well. He followed that up by serving up a double and home run in the top of the 6th. That tied up the game and ensured that he would exit without a chance to win.
The Nats eventually pulled out the 5-4 victory thanks to a squeeze play later in the game, but Gorzelanny's epic at-bat surely will be the talk of the locker room for days to come.