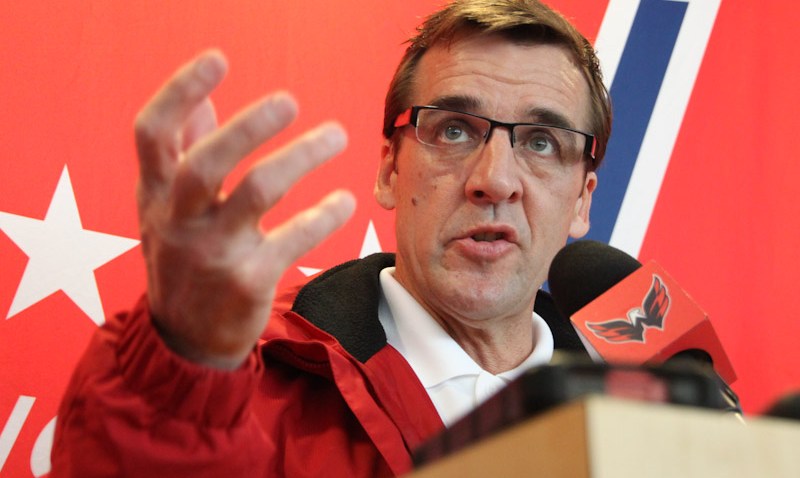 Washington Capitals general manager George McPhee will not have his contract renewed by the organization, ending his nearly 17-year tenure as the franchise's chief architect.
"George has been a terrific, longtime executive for our franchise, and I'm grateful for his commitment to the Capitals organization for the past 17 years," team owner Ted Leonsis said in a statement. "Under his leadership the Capitals won seven division titles, twice were the top team in the Eastern Conference, earned a Presidents' Trophy and competed in the playoffs 10 times.
"He was a highly effective manager who is extremely well regarded within our organization and around the NHL. We have the utmost respect for him and his family and wish them nothing but the very best."
McPhee was the third-longest tenured general manager in the NHL behind New Jersey's Lou Lamoriello and Carolina's Jim Rutherford, having assumed his position on June 9, 1997.
Over that span, McPhee presided over a mid-2000s rebuild of the Capitals which eventually returned a downtrodden franchise back to respectability. From 2007-08 to 2012-13, Washington won five division titles and a Presidents' Trophy for the league's best regular-season record in 2009-10.
Yet that regular-season success never translated into postseason success. Since the Capitals represented the Eastern Conference in the 1998 Stanley Cup Final during McPhee's first season, they have yet to advance past the second round. This season, Washington failed to qualify for the playoffs for the first time in seven years.
Leonsis and team president Dick Patrick will address the media Saturday afternoon. McPhee is expected to address the situation Monday.
---
Follow Adam on Twitter @AdamVingan and e-mail your story ideas to adamvingan (at) gmail.com.