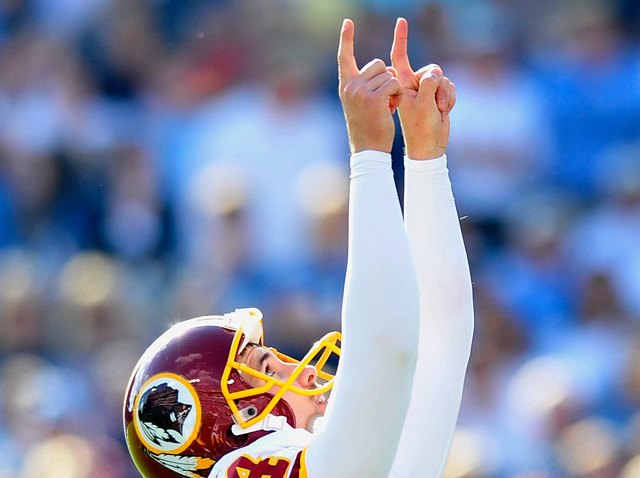 Graham Gano didn't have enough leg to give the Redskins a win in Tennessee at the end of regulation.
But everyone deserves a second chance, right? Gano made the most of his in overtime, booting a 48-yarder to give Washington a crucial 19-16 win.
Gano's first attempt to win the game was from 47 yards away -- a kick that came up short. The second was from 48, and Gano made sure he had plenty of leg behind it.
The Redskins have the Titans to thank for the good field position. Tennessee committed three penalties on the final drive, including two 15-yard personal fouls, to give Washington a chance to win.
The game was a defensive struggle and it also was a struggle to stay healthy. Both teams lost key players -- Clinton Portis for the Skins and Vince Young for the Titans -- which threw a few wrenches into each team's gameplan.
But with the game tied at 16 late in the fourth quarter, Donovan McNabb found himself with a chance to lead his team's two-minute offense. That's right, coach Mike Shanahan didn't pull him for Rex Grossman like he did several weeks earlier.
Instead, McNabb remained in the game as the Skins took control at their own 22 with 1:37 left in regulation and one timeout remaining.
McNabb showed full control of the system and connected for several clutch passes with Chris Cooley and Brandon Banks. He got the team in position for Gano to attempt a 47-yard field goal with three seconds left in the game.
"Even though we missed (the field) goal, I think (McNabb) did a heck of a job to get us into that position," Shanahan said.
Gano's kick was straight, but it fell short. He didn't have enough leg, and the ball bounced as it reached the back of the end zone, forcing overtime. After the game, Gano admitted that he "mishit" it and that it got caught up in the wind.
"I was confident that we were going to get another opportunity in overtime and get the win," Gano told FOX Sports after the game.
And that's what happened. The Redskins shut down the Rusty Smith-led offense in OT, which ultimately led to Gano's second chance at a game winner.
The win kept the injury-riddled Redskins' faint playoff hopes alive as they rebounded from an ugly home loss. Washington (5-5) snapped a two-game skid and bounced back from a 59-28 loss to Philadelphia on Monday night.
Portis, who re-injured the groin that kept him out of the past five games, was among at least eight Redskins who were hurt in Sunday's game.
"I don't think I've ever had that many guys go down and a team stay together and keep on fighting and find a way to win," Shanahan said.
Portis started and had five carries for 32 yards. But he got hurt and returned to the sideline in street clothes in the second half.
The Redskins came in without three starters due to injuries. Then it got worse.
Washington safety Anderson Russell, who started for LaRon Landry, slid to the turf and hurt his leg on an 87-yard punt return by Marc Mariani in the first quarter. He had to be helped off the field.
Also, center Casey Rabach suffered a knee injury, with Will Montgomery sliding over from right guard where he started for Artis Hicks. The Redskins had to move a tackle over to guard.
Linebacker Lorenzo Alexander hurt a hamstring. Lineman Derrick Dockery also had to be helped off the field in the second quarter and went to the locker room.
Linebacker Rocky McIntosh went down late in the second quarter with a thigh injury.
After Gano's game-winning kick, all the attention turned to Young who tossed his shoulder pads and No. 10 jersey up into the stands. Young talked with Fisher, dressed quickly and walked past reporters and even brushed off a teammate who tried to talk to him before he stormed out of the stadium.
Young tweeted nearly three hours later that he was fine and "sorry to my teammates." He then tweeted "Just want to play."
Fisher said Young may need season-ending surgery for a torn flexor tendon in his right thumb. After three straight losses, Fisher selected rookie Rusty Smith to be his starting quarterback when the Titans (5-5) visit Houston on Sunday.
"He threw half his uniform in the stands. I think clearly that is no way to respond, and so we have some things that we have to sort out with him," Fisher said of Young. "He may need surgery. And if that's the case, he's done for the year."
Even if Young doesn't need surgery, he's not Fisher's starter anymore. Not after the latest actions of a quarterback who lost his job in 2008 following an injury in the season opener and a meltdown where he had family worried he might hurt himself a day later. Young got his job back last season after an 0-6 start.
"I am very disappointed. I think his teammates are disappointed," Fisher said. "You know, there is going to be frustration in losses. There is going to be times when you have to dig deep and fight and turn to one another. I don't think you run, and so I am disappointed."
Fisher wouldn't discuss what Young said to him in the locker room.
"That is between me and him and the team," Fisher said.
Titans receiver Nate Washington said they were told to keep their mouths shut.
No one knows if Young was upset over the injury, the loss or not returning to the game.
Copyright AP - Associated Press