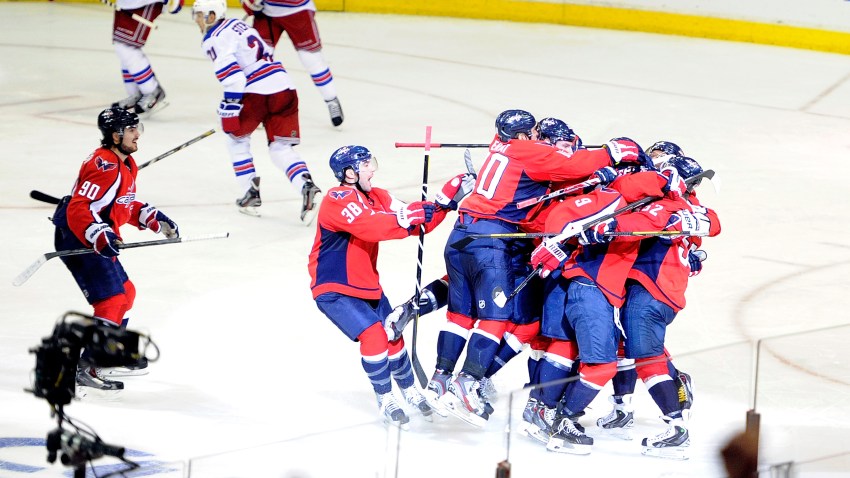 Within the confines of the Capitals' locker room, in front of a small audience of reporters, Karl Alzner played the role of Al Pacino.
"Well, the inches we need are everywhere around us," said the defenseman, parroting Coach Tony D'Amato, Pacino's character in the 1999 film Any Given Sunday, and the pump-up video periodically shown on the Verizon Center scoreboard. "It can come down to that."
During Saturday's Game 2 between the Capitals and Rangers, it did. After 68 highly-contested and scoreless minutes between two bitter postseason rivals, defenseman Mike Green's slap shot from high in the slot lightly grazed off forward Derek Stepan's stick and past goaltender Henrik Lundqvist to send Washington to New York with a 1-0 win and 2-0 series lead.
"Yeah, I just a lucky one tonight," Green said. "It could have been any of us."
In hockey, victory and defeat often come down to the bounce of a puck, and that is only magnified during the postseason, when life becomes a game of inches and the entire complexion of a series can change because of them.
If forward Rick Nash's wrist shot on the rush with less than four minutes left in regulation was an inch to the right, then it wouldn't have deflected off the left post and the Rangers might have avoided overtime and held on to tie the series.
If defenseman Ryan McDonagh's attempted pass to forward Brian Boyle in overtime was one inch lower, then he wouldn't have been called for a delay of game penalty (the second of its kind within six minutes), the Capitals wouldn't have had a power play and he wouldn't have had to fight back tears in the locker room.
If Green's shot doesn't brush off Stepan's stick on the ensuing power play, then it doesn't make that ever-so-slight change of direction that ultimately fooled Lundqvist, who may have made his 38th save.
"It's everything," Coach Adam Oates said of the inches. "We've talked about it all year long. We've turned it into football, where every single little thing matters."
Just like Pacino told his fictitious football team, the inches a team needs to win are everywhere around it. They are in every break of the game, every minute, every second. And when you add up all those inches, that makes the difference between winning and losing.
The Capitals won Saturday by the thinnest of margins and now have a 2-0 lead in their best-of-seven series.
That's hockey. That's all it is.
Now...what are they going to do?
---
Follow Adam on Twitter @AdamVingan and e-mail your story ideas to adamvingan (at) gmail.com.