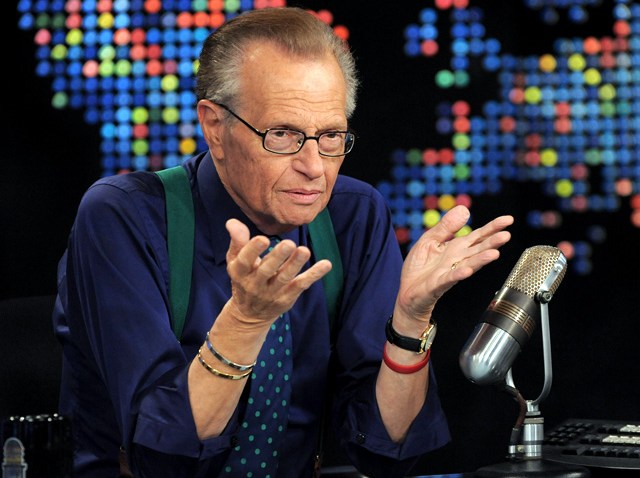 The chance to sit down with Larry King for lunch (or breakfast) came about by total surprise. I was in Los Angeles and meeting a friend at a spot he chose that I wasn't aware of. On my way to Nate & Al's in Beverly Hills, my cab driver told me he had just seen Larry King get out there as well.

I didn't know that he ate there every single morning he was in L.A. for the past 17 years, but I did know that I was hoping I'd have the chance to say hello to him as I do admire his work, know that he has an intense love of sports and had tried to make contact with his reps a couple times before in hopes of doing a "Lunch with Lindsay" sometime while he was in D.C. I never thought it could happen in L.A.

As I ate my omelet and caught up with my friend inside the bustling diner, I noticed Larry and a booth of three others sitting a couple rows over. I didn't want to bother him but knew if I didn't introduce myself, I'd be annoyed with myself the rest of my trip, so I acted like it was no big deal and approached the table. I introduced myself to Larry and his best friend, Sid. At first, Larry thought I did radio in D.C., but I told him I did sports for NBC Washington. We chatted briefly about the Nationals and about how he thinks they can be competitive this year. Then the food arrived, I felt it was time to leave so I shook his hand and said goodbye. Later that afternoon, I got the notion to give it one more try with his publicist, since I happened to be in L.A., to see if I could convince Larry King to sit down for a few minutes before I flew out three days later. As luck and timing would have it, Patti got back to me saying he would agree to do it if I could be at Nate & Al's at 8:45 a.m. Saturday. You bet. It would be tight making my flight home, but I knew we could swing it, so we borrowed a photographer from L.A.'s NBC station and went to work.

When I showed up at Nate & Al's Saturday morning, I was early -- the first one there. I had set up the shoot with the diner so they showed me to my table and told me Larry comes in every morning with about six of his best friends. I would be sitting right beside them doing the interview. When I arrived, Gloria, his personal waitress, told me where to sit and she said I would "probably want to chat with the man sitting next to me in the booth" while I waited for Larry and his pals. Turns out the man was Jackie Cooper, one of the original "Little Rascals." He was delightful and enlightened me about the difference between Hollywood back then and now.

When Larry arrived with his friends, they couldn't have been kinder. His best friend, Sid, is a trip. They all seem to keep each other in line, and after decades of good conversation, you can see why. Larry reminded me instantly of George Michael: A straight shooter with a commanding presence and a genuine interest to learn about the person interviewing him. I spent a lot of the interview laughing, and in the end, I was left with the impression that Larry King does miss his job a lot. He wants to do new things and would consider going into baseball ownership but that not being able to cover "the story" is really hard to get over. He absolutely enjoys his more "laid back" life and more time with his buddies, but he is constantly soaking up news. He has had jeans delivered to him by Ryan Seacrest -- as he acts as sort of a mentor to Seacrest these days.

The thing that intrigued me most of all was hearing how he doesn't prepare for any of his interviews. He told me that that was his strategy, by doing it that way, the way he started out when he would broadcast interviews from a small diner in Miami, it was always more of a conversation. That's what I appreciated about Larry that Saturday -- that he took the time out to have a short conversation of his own with me, a little slice of life a la Larry King.