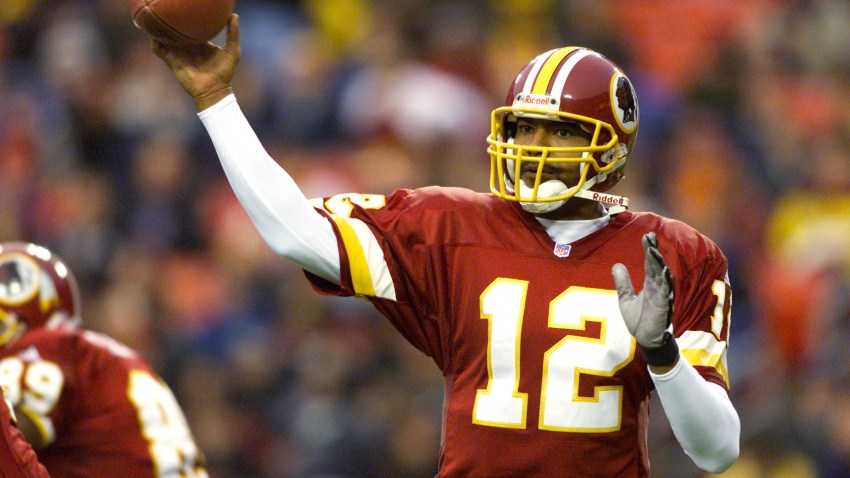 Robert Griffin III made his long-awaited debut for the Washington Redskins Thursday, throwing for 70 yards and a touchdown on 4-of-6 passing in the 'Skins 7-6 win over the Buffalo Bills.
Griffin's first NFL action was met with positive reviews, but of course, for every bit of praise someone receives, there has to be a naysayer that disagrees with public opinion (or at least tries to undercut it).
Remember Tony Banks? He was one of the 13 -- yes, 13 -- starting quarterbacks that the 'Skins have had since 2000. He played in Washington for one season (2001) and started 14 games, throwing 10 touchdowns and 10 interceptions as the Redskins finished 8-8 after starting 0-5. He finished his career with a 72.4 QB rating and was replaced at different points of his career by Quincy Carter and Trent Dilfer.
Well, Banks, who now works as a television analyst for the Big Ten Network, tweeted his thoughts on Griffin's debut Friday:
RGIII looked smooth & accurate last night but preseason is nothing like real thing.Even I led NFL in QB rating in preseason my rookie year — Tony Banks (@tonybanks12) August 10, 2012
Can't argue with that!
Banks failed to mention that not only did he lead all rookies in QB rating during his first preseason, but he also set a NFL record by fumbling 21 balls as a rookie starter for the St. Louis Rams in 1996 (it has since been surpassed). Now might not be a good time to mention that, right? Oops.
Griffin was not the only Redskins rookie quarterback to feel Banks' wrath. Banks also provided commentary on fellow Michigan State alum Kirk Cousins' debut as well:
C'mon Kirk Cousins,1st preseason is the easiest of all games because the defenses r vanilla.9-22 not a good start bro.I'm sure he'll improve — Tony Banks (@tonybanks12) August 10, 2012
Mmm...vanilla.
---
Follow Adam on Twitter @AdamVingan and e-mail your story ideas to adamvingan (at) gmail.com.