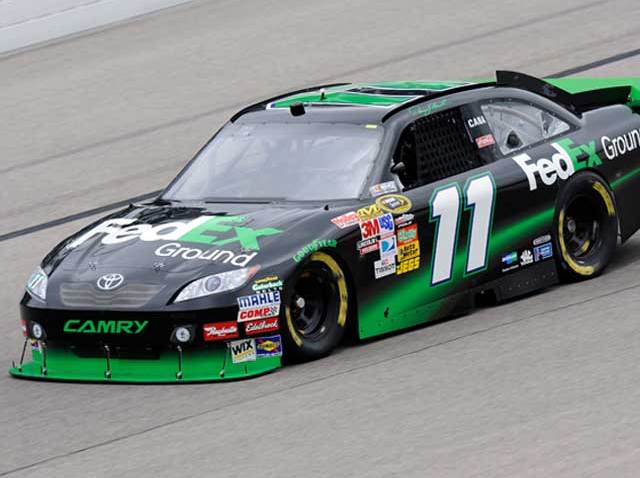 This past weekend was a bit of a whirlwind on the NASCAR trail. I began a new role with my NASCAR coverage on TNT. Instead of pit reporting, I am hosting the "Countdown to Green" show and doing some in race hits from our new "rain" studio.
I was very busy this past weekend at the track, as it was sort of like the first weekend at college as far as learning the timing of things and the new responsibilities for the new role. It's important to me to make sure I still check in with and talk to teams in the garage, but it's important to be strategic with my time as now I write the pre-race show and work with my producers to put it together.
Overall, having this opportunity really means a lot to me, and there was a lot that I was reflecting on as far as what this sport means to me. While I was rehearsing for our show which takes place on a set -- or "rig," as they call it -- high above the racetrack in the infield, I could see across both the Sprint Cup garage and the garage that housed the ARCA cars that were racing on Friday. I started pit reporting for this sport in the ARCA series and it was really my first experience working with race coverage for SPEED. That experience, which started about 7 years ago, was life-changing for me -- not in a dramatic kind of way, but it gave me new perspective from a brand new world.
I remember being nervous about jumping in and learning the ropes of a brand new series, but what I found was people that were more than willing to offer any help I needed. The people that make up ARCA racing – the drivers, the crews, the officials – they are all part of it because they love to race and most of the teams are family oriented and go from track to track and still have to worry about the principals on which racing was built. They show up each week with cars they have built and scraped together and sometimes their only assurance that they'll get to go to the next track is based on if they finish well and if they earn a paycheck that allows them to do so. Because of that love and determination and passion, the series -- and I do believe racing in general -- has a "family" feel that touched me immediately. I think it took me back to memories of my own extended family from western Pennsylvania, which is a very rural, very hardworking, blue collar part of the country. I was hooked.
That's why when I was preparing to do something I found really exciting, like hosting a show for the Sprint Cup series for the first time, and when it was at the same track where I could see those ARCA cars, it made me realize how blessed I was to ever have that opportunity in the first place.
The other thing that stood out to me this weekend, between the meetings and the practicing on set, etc., was how much what I am able to do at NBC 4 sports is similar and how the standards we hold in our sports department, from day one, have been to the same caliber as a network sports broadcast. Working with Jim and Doreen (or any other anchor team) is so much fun – just like working with Larry McReynolds and Kyle Petty. It keeps you on your toes and it gets me excited for the unexpected that may come.
Overall, I can't express how much fun our first show was. Larry and Kyle and everyone else involved made it much easier because they are so good at what they do. I couldn't believe the rain started just as we finished the show, but it certainly made for some interesting "fill time" in our new studio.
There were some entertaining things from the days leading up to the race. I accidentally spilled our executive producer's coffee all over my backside during our full team meeting. And in the midst of an outdoor run, the skies unexpectedly opened up and I was drenched. It was great to be back with the TNT group, and I really enjoyed the time I spent sitting down with Joe Gibbs for the feature that ran in "Countdown to Green." He misses football, but is getting much satisfaction out of being team owner. Lord knows he's got his hands full with his drivers -- both winning like crazy and adding a little teammate drama to the sport.