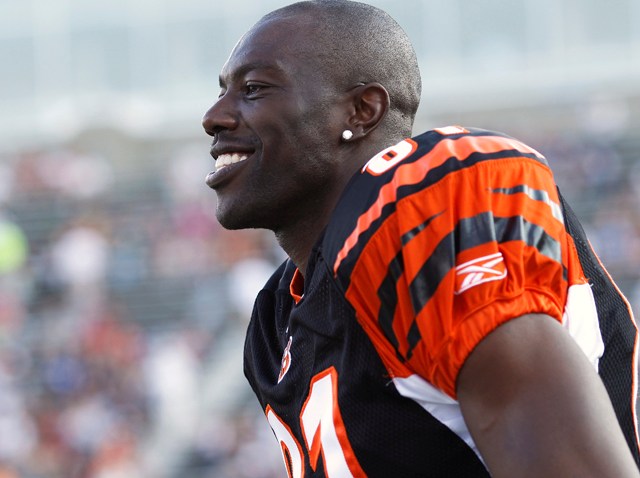 One element the current Redskins fracas has definitely been missing: Terrell Owens.

The Cincinnati Bengals wide receiver weighed in from across conferences on the performance of Washington Redskins quarterback Donovan McNabb, his former teammate.

In a segment on his reality show, T.O. revived the campaign he launched against McNabb when they played together for the Philadelphia Eagles in 2004–5. Back then, Owens blamed McNabb for the team's Super Bowl loss to the New England Patriots, saying that the quarterback was tired during the fourth quarter. His comments contributed to his departure from the team.

On his show, Owens said that there were "rumors" that McNabb couldn't perform in the two-minute drill back in Philadelphia, either.

Chad Ochocinco -- fellow Bengals wide receiver and unlikely straight-man to Owens on "T. Ochocinco" -- questioned Redskins coach Mike Shanahan's decision to bench McNabb with under two minutes left to play and sub in Rex Grossman.

Ochocinco asked the question that has been puzzling talking heads and Hogs fans: "What message are you really trying to send?"

Owens's McNabb jab came in response.

"Well, I don't really want to start anything, but I did play in the Super Bowl and there were rumors where he couldn't get our two-minute offense going at the end of the game," Owens said. "I'm just saying."

ESPN reported last April that McNabb had in fact pressed the Redskins' coaching staff to consider Owens. Though McNabb denied approaching the Redskins on Owens's behalf, several sources confirmed the account -- including one source who said that McNabb and Owens had discussed the possibility.

It's not an arrangement McNabb would likely consent to now or any time soon.

Owens -- never himself one for authority -- said that the coach knows best. But it was Ochocinco who closed the segment with words of wisdom.

"If anyone else out there feels that Rex Grossman gives the Washington Redskins a better chance than Donovan McNabb to win a game with two minutes left on the clock, they need to slap they selves."
Copyright AP - Associated Press