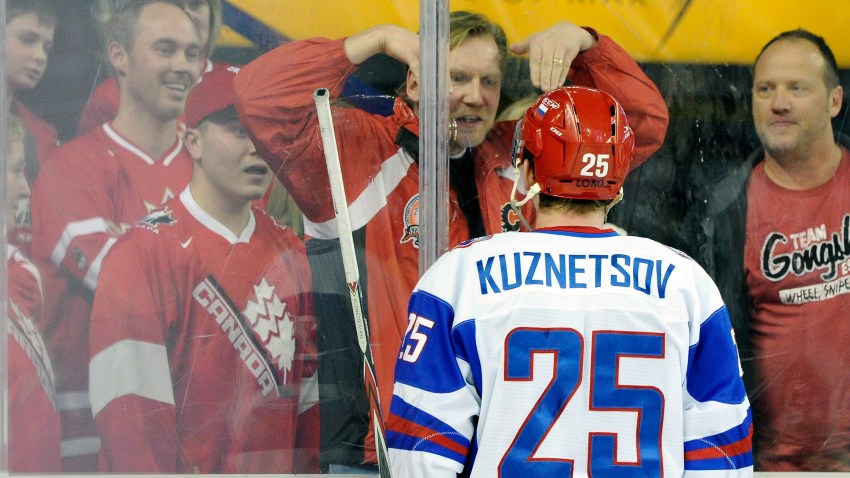 Not that the Washington Capitals' season could get any worse, but their top prospect, Evgeny Kuznetsov, suffered an apparent knee injury Friday during a KHL game between his Traktor Chelyabinsk team and HC Spartak.
According to Yahoo! Sports and TSN's Dmitry Chesnokov by way of Sovietsky Sports' Pavel Lysenkov, Kuznetsov "was checked, fell down, was yelling, slamming hands against the ice [and] was in terrible pain." Kuznetsov was then stretchered off the ice.
As you can see in the video below, Kuznetsov is clearly in a lot of pain:
Sport-Express' Slava Malamud reported that the "preliminary diagnosis" on Kuznetsov is "torn knee ligaments," but that is before a offical MRI has been done. Of course, this is all conjecture as there has been no official word yet, but according to Chesnokov, things are not looking good.
If Kuznetsov, who might join the Caps next season, is seriously injured, then it could influence the Caps' present and future plans. The NHL trade deadline is looming -- Monday at 3 p.m. EST -- so Washington might have to make a trade to prepare themselves in case Kuznetsov is not ready to play (or does not leave the KHL at all, which is a distinct possibility as well).
Also, it could require the Caps to reassess who they will or will not sign in regards to their upcoming free agents, particularly Alexander Semin.
Apparently, when it rains, it pours on the Caps this season.
---
Adam Vingan is co-founder and editor of Kings Of Leonsis, a Caps-centric blog, and is the Capitals Editor for SB Nation. Follow him on Twitter @Adam_KOL and e-mail your story ideas to adamvingan (at) gmail.com.