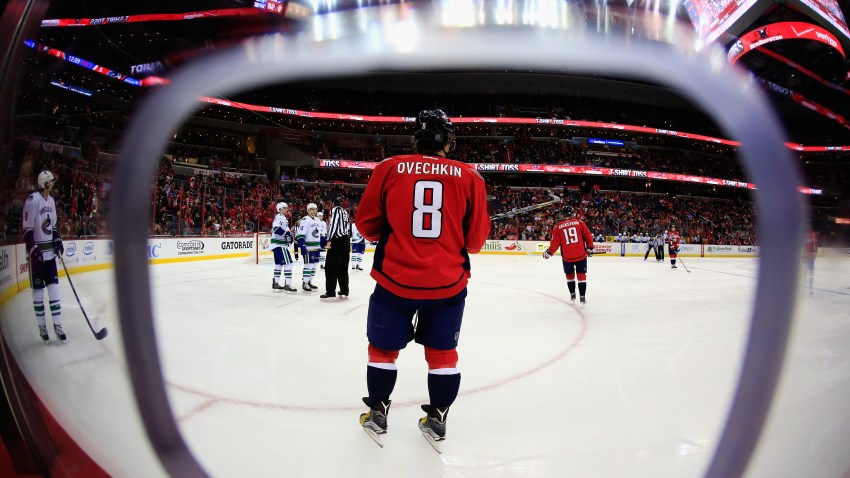 The corps that regularly follows the Washington Capitals, already sizable as is, will swell by about 15 beginning Friday when an EPIX film crew officially embeds with the team.
For the next month, the Capitals' preparations for the 2015 NHL Bridgestone Winter Classic, to be played against the Chicago Blackhawks on Jan. 1 at Nationals Park, will be chronicled as part of a four-part miniseries. The first episode will debut Dec. 16 at 10 p.m. and all four will be streamed live as they premiere on a variety of digital platforms, including the NHL's official website. (The network will also capture the buildup to the Coors Light NHL Stadium Series against the Los Angeles and San Jose Sharks, which will air in February.)
Several of Washington's players are familiar with the all-access nature of the show, having participated in the inaugural season of HBO's "24/7: Road to the Winter Classic" in 2010. The same producer who helmed that program, 52-time Emmy winner Ross Greenburg, will once again be in charge of combing through the unfiltered footage compiled during 16-hour days and formatting a week's worth into a one-hour episode.
"I think it's important that they know that we're trying to be professionals, not invade their ability to do their job, but rather just be a fly on the wall, get the cameras out, put the microphones on and learn about them as people," Greenburg said. "Because as much as they're held up as these superstar athletes, they're all people."
When Greenburg last documented the Capitals, they were an emergent team navigating the pressure that naturally arises as a result, all while fighting the frustration of an eight-game losing streak. The cast of Capitals characters -- a charismatic superstar in Alex Ovechkin, a colorful coach in Bruce Boudreau -- made for entertaining television.
Those elements still remain, albeit in different forms. Ovechkin is "not the kid who was flying around four or five years ago," Greenburg said, and he plans to focus on Ovechkin the "matured mentor" as he guides young Russians Dmitry Orlov and Evgeny Kuznetsov. Barry Trotz, as vivid as Boudreau, will be a central figure as a coach and father.
"There's nothing like the leading force of a coach in terms of setting the tone of his ball club or his team and in this case I think Barry Trotz is a really unique guy," Greenburg said. "He's very down to earth, he's a player's coach and I think that you can already see the bonding taking place between the superstars like [Alex] Ovechkin and [Nicklas] Backstrom and others, [Jason] Chimera and others, and him. I think that he's setting a tone and creating leaders amongst his players and we want to showcase that."
EPIX will join the Capitals equipped with a basic knowledge of the team and potential storylines to uncover; Ovechkin, Trotz, goaltender Braden Holtby and goaltending coach Mitch Korn's relationship as well as the twin-like chemistry between Chimera and Joel Ward were among those mentioned by Greenburg.
The crew is also prepared to handle the unexpected narratives that inevitably appear during an 82-game season, transforming it all into an engrossing viewing experience.
"We're looking at this series as go back to your roots," Greenburg said. "Make it really in-depth. Go real behind-the-scenes, dig up some really interesting humanitarian stories and focus on what makes these great athletes so unique. Not only on the ice, because I think we capture the sport like few have by bringing those cameras down and putting those microphones on them and going into those locker rooms and training rooms and seeing how a hockey player and his coaches attack this sport on a daily basis.
"I really think we have to go behind the scenes but also create some memorable storylines and carry them through for four weeks and really rivet the viewer."
---
Follow Adam on Twitter @AdamVingan and e-mail your story ideas to adamvingan (at) gmail.com.