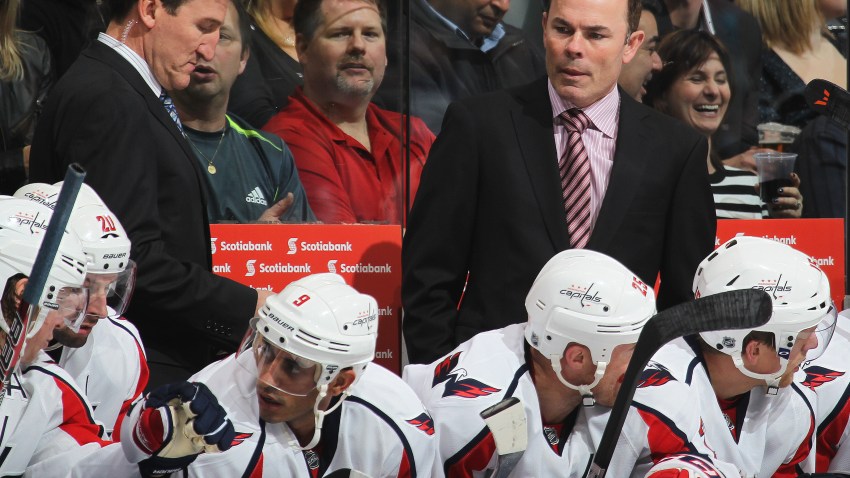 The Capitals and Rangers are set to meet in the Stanley Cup Playoffs for the fourth time in five seasons, and while it may not seem like it on the surface, the more things stay the same, the more they actually change.
In each of the last three series against the Rangers, the Capitals have had a different head coach who has employed a different system. In 2011, Bruce Boudreau utilized a buttoned-down defensive system that was far less risky compared to his original freewheeling style. In 2012, Dale Hunter's more nuanced defense-first philosophy that relied heavily on blocking shots was on display.
This season, the Capitals will play under the balanced, yet aggressive pressure-based system of Adam Oates, one that led them to great success over the latter half of the season. Once the players grew accustomed to it, they took off, winning 15 of their last 19 games en route to clinching the Southeast Division championship for the fifth time in six years.
Washington has certainly reaped the rewards of Oates's system, as did New Jersey last season, where he was an assistant coach. Under the tutelage of Oates and Coach Peter DeBoer, the Devils -- who, like the Capitals, underwent growing pains as they attempted to learn the system -- defeated the Rangers -- who eliminated the Capitals in the Eastern Conference semifinals -- in the Eastern Conference finals before falling short in six games in the Stanley Cup Final.
Knowing that there is concrete proof that their coach's style of play can lead to postseason success has left the Capitals feeling even more confident.
"We have confidence in our system," forward Troy Brouwer said. "Going forward here, we've seen what New Jersey was able to do with last season and that even gives us a little bit more enthusiasm about it.
"He brought over that system -- or the majority of that system -- to us. And it took us a little while to embrace it, but once we did, we're playing really well right now."
Oates said Monday that he plans on showing the Capitals "a little bit of everything" as they prepare for Game 1 Thursday. Of course, as several players noted, these are different teams in different years, but even so, Oates and his philosophy remain constant.
"It's important that we have a coach that's been in that position and been in a Stanley Cup Final," forward Alex Ovechkin said. "He knows how to go there. We just have to listen to him and do exactly what we have to."
---
Follow Adam on Twitter @AdamVingan and e-mail your story ideas to adamvingan (at) gmail.com.