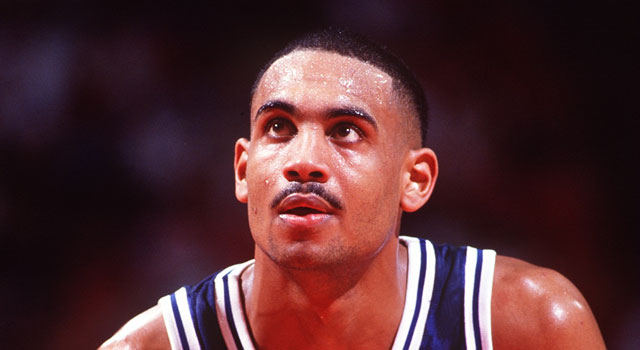 Which D.C.-area high school basketball players reigned supreme in college? Check out the top 10 college basketball players who went to high school in the greater Washington area, evaluated on overall success at the college level and NCAA Tournament performance.


10.) Dave Bing, like Elgin Baylor and Sherman Douglas, he played at Spingarn High, but five years after Elgin in 1959. By then, people were catching on to the talents of black ball players, including the local media, who recognized Bing with multiple accolades, including naming him to the All-Met team. After being a Parade All-American in 1962, Bing moved on to Syracuse, partially because he was recruited by the famed Ernie Davis. Bing's only year in the NCAA Tournament came in 1966 when he was a senior averaging 28.4 ppg, and ultimately being named an All-American. Syracuse missed a chance to go to the Final Four, won by the historical Texas Western team, after going down to Duke in the East region finals. Bing went on to have a Hall of Fame NBA career, also playing two seasons with the hometown Bullets, representing DC in the 1976 All-Star game.

Suggested reading: Dave Bing Bio - NBA.com
Dave Bing Statistics from Basketball-Reference.com


9.) Sherman Douglas is yet another part of the rich tradition of Spingarn High. As a senior in '84-'85, the "General" (probably just a Captain back then) led Spingarn to an undefeated 31-0 record and a No. 1 ranking in the nation according to several publications. Douglas would have stayed in the DMV area for college, but Georgetown's John Thompson didn't recruit him for one reason or another, and Maryland, pre-Gary Williams, got into the game too late. Jim Boeheim and Syracuse it was as Douglas helped continue a strong basketball tradition for the Orange, making the NCAA Tournament in each of his four years. The team was bounced in the second round of Douglas' freshman and junior years, but it was in his sophomore year when Douglas made a name for himself in the Big Dance. In the '87 tournament, Douglas shut down Billy Donovan and the Rick Pitino-led Providence Friars en route to a date with Indiana in the championship game. Douglas and teammate Rony Seikley went down to Bobby Knight, Steve Alford, and Keith Smart, who hit a last-second game winner, for the title. In his senior year, the 'Cuse fell to Illinois in the Elite Eight of the '89 tournament. Douglas still holds Syracuse records for most assists in a season and for a career, averaging 7.0 over four years. He is a member of the Syracuse All-Century team.

Suggested reading: Sherman Douglas Statistics from Basketball-Reference.com


8.) Len Bias' cocaine overdose-related death after leaving Maryland and being selected second overall in the '86 NBA draft is an all too well-known tale. Bias played locally at Hyattsville's Northwestern High School where he earned All-Met honors in '82 and '83, along with being named a Parade All-American fourth teamer. Bias stayed local to play for Lefty Driesell and the Terps, where his status in college basketball grew to be legendary. During his time in College Park, his graceful 6'8" frame dazzled fans and foes, earning him two ACC Player of the Year honors and All-American status (3rd team as a junior, 1st team as a senior) as he led the Terps, in both the '84 and '85 seasons, in scoring (23.3 and 18.9) and rebounding (7.0 and 6.8). Maryland made the NCAA Tournament in each of Bias' four years, getting past the second round only twice, his sophomore and junior seasons, but losing to Illinois and Villanova in the regional semifinals respectively. The Terps beat Duke for the ACC crown in '84 when Bias was a sophomore. His 2,149 career points still stands as the second most all time in Terps history after Juan Dixon's 2,269.

Tragically, in 1990, four years after his death, Len's younger brother, Jay Bias, who also starred at Northwestern as a two-time All-Met performer leading the team to a win in the '87 Maryland state championship, was shot and killed in a jewelery store argument in PG County. Grades had kept Jay from receiving a D-I scholarship. He signed to play at Allegheny CC, but dropped out after a year.

7.) Grant Hill was an All-Met performer, Washington Post Player of the Year, and 1990 McDonald's All-American out of Reston's South Lakes High School. His versatile and dynamic game put him on the varsity squad as a freshman, and even allowed his 6'7" frame to be groomed as a point guard his senior year. During his high school career, Hill racked up multiple awards at prestigious camps like Nike and Five Star, along with guiding his AAU team to two national championships. Despite growing up a fan of Georgetown, his mother's destination of choice, and patterning his game after Reggie Williams, Hill chose to attend Duke, also over his father's preferred UNC Tar Heels.

As a Blue Devil, Hill's youthful poise helped guide the team to back-to-back national championships in his first two seasons. As his career progressed, he earned ACC POY honors ('94), National Defensive POY ('93), and All-American honors in '92, '93 and '94. Hill had his jersey retired by Duke, the eighth in program history, and his over 1,900 points, 700 rebounds, 400 assists, 200 steals, and 100 blocks for his career were an ACC first. He has had a decorated NBA career since being taken third overall in the '94 NBA draft by the Detroit Pistons, including seven All-Star appearances and five All-NBA selections.
Suggested reading: Grant Hill Statistics from Basketball-Reference.com

6.) Adrian Dantley, a Morgan Wooten DeMatha disciple, and the greatest all-time Stag, had a most prestigious DC high school basketball career, earning three All-Met honors and a 1973 Parade All-American spot. At Notre Dame, Dantley's Irish made the NCAA tournament in each of his three years, but never made it past the regional semifinals. He was an All-American in both his junior and senior years, also claiming the National POY in his final season, '75-'76. In three years in South Bend, he averaged 25.8 points and 9.8 rebound, notching 2,223 and 843 total for his career respectively. Dantley went on to have a decorated post-college career, winning a goal medal, NBA Rookie of the Year, appearing in six All-Star games, two All-NBA selections, and ultimately elected into the NBA Hall of Fame. Dantley is currently an assistant with the Denver Nuggets.
Suggested reading: Adrian Dantley Statistics from Basketball-Reference.com

5.) Johnny Dawkins was a 1982 McDonald's All-American out of DC's Mackin High, along with being DC All-Met in '81 and '82. During his basketball days in the District, Dawkins matched up with DeMatha's Danny Ferry, whose freshman year at Duke coincided with Dawkins' senior season with the Blue Devils. In Durham, Dawkins would go down as one of the greatest players in Duke basketball history. He stood as the school's all-time leading scorer with 2,556 points (19.2 career average) until J.J. Redick passed him in '96. Despite being a freshman All-American, Duke struggled in his initial campaign with an 11-17 record. However, over the next three years, the Devils would amass an 84-21 record and three NCAA tournament appearances. In '85-'86, his senior year, Dawkins was named the Naismith College Player of the Year while leading the Blue Devils to the NCAA Tournament championship game where they lost to Pervis Ellison and the Louisville Cardinal. Dawkins' 24 jersey was retired by Duke and he has been honored as one of the 50 greatest players in ACC basketball history. He averaged 14.5 points over his nine year NBA career and worked with the Duke basketball program after his retirement. In April of 2008, Dawkins was named head coach of Stanford University.
Suggested reading: Johnny Dawkins Statistics from Basketball-Reference.com
4.) Danny Ferry played for the famed Morgan Wooten at DeMatha High, graduating in 1985 when he earned McDonald's and Parade All-American accolades, in addition to being named the USA Today national player of the year and earning two-time All-Met honors. One memorable moment came when Ferry hit free-throws to beat Baltimore's Dunbar Poets, previously winners of 59 straight games. Ferry went on to play for the Duke Blue Devils, achieving much success. He won the East Regional MVP on two of Duke's three trips to the Final Four during his four year '85-'89 tenure. Ferry won several National Player of the Year awards, had his number retired, and was named one of the 50 players in ACC history to go along with his over 2,100 points, 1,000 rebounds, and 500 assists while a Dookie. Ferry pulled a Peyton Manning-esque entitled move when he refused to play for the team which drafted him, the LA Clippers. He, rather, opted to play in Italy for a year until the Clippers traded his rights to Cleveland.


Suggested reading:
Danny Ferry Statistics from Basketball-Reference.com
3.) David Robinson flew very low under the radar in terms of the DC area high school basketball scene. He was only 5'9" as a freshman, and even though he grew to 6'7" by his senior year, basketball was still a side hobby after academics. Still, playing only one year of ball at Osbourn Park in Manassas, about 30 miles outside of DC, Robinson earned all-district and all-area honors. Robinson followed his father's footsteps by attending the Naval Academy in Annapolis. By the time he arrived on campus, he continued to sprout to 6'9," eventually growing to be 7'1"; the combo of serving his country and playing basketball seemed like a natural fit.

From basketball afterthought to the greatest player in Navy history to an all-time college basketball great to a future NBA Hall of Famer, Robinson still holds countless Midshipmen basketball records. He would finish his four-year college career with over 2,600 points, 1,300 rebounds and 500 blocks, earning multiple accolades such as the Wooden Award, the Naismith Award, the Oscar Robinson Trophy, Sporting News Player of the Year, and two All-American selections in '86 and '87. Robinson led Navy to three straight NCAA appearances, creating a huge buzz around the DC area when the Midshipmen made the '86 Elite Eight, losing to a Johnny Dawkins and Danny Ferry-led Duke squad. Robinson was taken first overall by the Spurs in the '87 NBA draft, fulfilled his commitment to the Navy (for only two of five years because of his height), won an Olympic gold medal in '88, and eventually suited up for San Antonio in the '89-'90 season.
Suggested reading:
David Robinson Statistics from Basketball-Reference.com
2.) Elgin Baylor, now an NBA Hall-of-Famer, played for DC's Spingarn High School in the early 1950s. Despite scoring close to 35 points per game in his senior year, netting 63 in one outing, Baylor's talents went mostly unrecognized due to neglectful coverage from local papers, those being the days of segregation. In the 1958 NCAA Tournament, Baylor led all scorers with 135 total points (over five games) and was named tourney M.O.P, but his Seattle Redhawks (then known as the Chieftans) lost to the Kentucky Wildcats, led by Adolf Rupp, by 12 points in the championship game.
Suggested reading: "Elgin Baylor, Absentee Legend," Washington City Paper (July 1999) by Dave McKenna
Elgin Baylor Statistics from Basketball-Reference.com



1.) Austin Carr, a product of the River Terrace area of the District, attended the Holy Redeemer Catholic School, but made a name for himself at Mackin High, which merged with Archbishop Carroll in 1989, when he was named a Parade All-American in 1967. Carr starred at Notre Dame, where he gained notoriety as a scoring machine, often taking in upwards of 30-40 shots per game. In 1970, Carr had one of the greatest NCAA Tournaments ever. He scored 61 points, on 25-44 FGs (all still tourney records) against Ohio U in a first round win, 52 points in a round of 16 loss to Kentucky and Dan Issel, who tallied 44 points himself, and finally 45 points in a loss against Iowa in a consolation game. He left South Bend after scoring 2,560 career points for the Fighting Irish, an average of 34.5 per game. Carr played 39 games for the Bullets in '80-'81, his final season in the NBA.
Suggested reading: Austin Carr Week - und.com
Austin Carr Statistics from Basketball-Reference.com
Kyle Weidie also writes Truth About It and contributes to Bullets Forever, both Washington Wizards blogs.