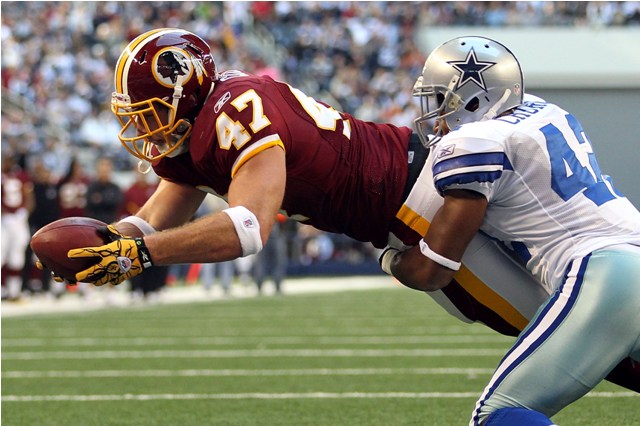 Cowboy's safety Barry Church chatted with SportsDay in Dallas in a little get-to-know-you session. Among your standard questions about music and hobbies came this little anecdote, starring Redskins tight end Chris Cooley.
Did you have a welcome to the NFL moment?

"Oh yeah. Last year I went to hit [Redskins tight end] Chris Cooley, he didn't even see me coming. I hit him, but I fell backwards and fell on my [butt] and he just kept running. That was my welcome to the NFL, everybody's not just going to fall after one little hit."

Did you think you were going to lay him out?

"Yeah, but I hit him and I fell backwards. He just kept running."
We're not sure if the first play in this video is the one he's talking about. If it's not, then clearly Cooley has schooled Church more than once.
Also of note in this video, Rex Grossman throwing touchdown passes.

Questions, comments or tips? Email Sarah at sarahskogod@gmail.com. You can also follow her on Twitter (@sarahschorno).