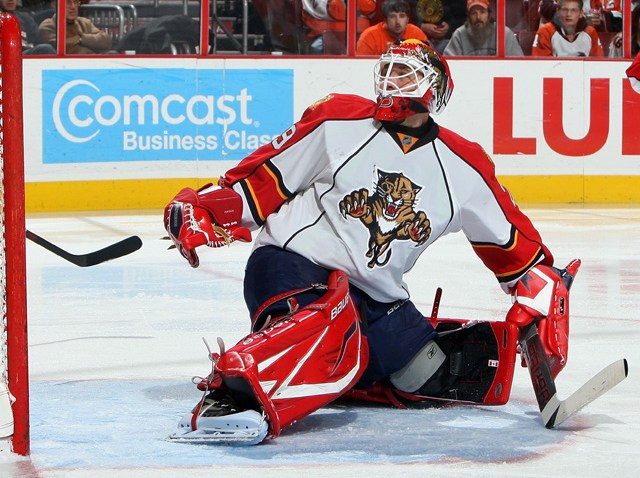 If there was an award for an off-season NHL MVP, it may have to go to Capitals general manager George McPhee.
Not only did he fleece the Avalanche out of a first-round pick in a trade this week, he went shopping this weekend and picked up starting goaltender Tomas Vokoun for a deep discount, signing the former Panther Saturday for one year at a reported salary of $1.5 million.
Yes, that's $1.5 million, or about a million per year less than Semyon Varlamov got upon signing a three-year deal with the Avs after his trade out of Washington.
That deserves a "wow."
So to sum things up, McPhee got a solid No. 1 goaltender for a song, added a veteran defenseman in Roman Hamrlik and a workhorse winger in Joel Ward, acquired a Cup-winning forward in Troy Brouwer, re-signed fan favorite Brooks Laich and snapped up two top draft picks from the Avs for Varly.
Not too shabby, Mr. McPhee.
How did he get Vokoun to turn down big money elsewhere to sign with the Caps? No one knows for sure, but the lure of playing on a Cup-contending team that was just a few pieces away from reaching the promised land was a very, very strong incentive.
The Caps want to win now. Vokoun, who has played in just 11 playoff games in 13 NHL seasons, wants to win now. So the 34-year-old netminder is substituting a big payday for a chance at the Cup.
One year from now, he could either be a playoff hero who will be ready for a bigger payday, or a playoff goat who won't be worth his weight in hockey pads.
That's yet to be determined, but we do know this: George McPhee has done quite well for himself this offseason despite a severe lack of star power on the free agent market.
The games still have to be played, but the general manager has given the players no excuses for not being able to win. They've got grit, they've got leadership, and they've got a No. 1 goaltender.
The rest is up to them.